For those individuals who love to lounge or relax in front of the television, what is not more convenient than a cup holder in your favorite reclining chair.
---
The Benefits of a Cup Holder in a Recliner
Well, if you are tired of having to get up an reach for your favorite drink, or having spills because of your drink being knocked over from the floor or side tables, or even in a home with rowdy kids and pets.
Having your drink at hand has never been this easy. We all enjoy a cold or hot beverage while relaxing in front of the television, or with our favorite book, on that ever so comfy reclining chair.


An additional cup holder in your favorite reclining armchair means that there are no more spills, and you have your favorite drink close at hand. The cup holder likewise when not holding a beverage can make nifty storage space for keys, remote control or even your phone.
Therefore I would say the benefits of a cup holder by far exceeds that of just holding a cup!
---
Additional Features in Recliners with Cup Holders
Most luxury recliners come with a few additional features besides just a cup holder. You can also look forward to side storage pockets for your magazines or remote controls, armrests that can be used as a storage compartment. Then there are luxury comfort features like the heating or massaging function, and similarly the vibrating function.
Most recliners come fully equipped with not only adjustable recline positions but likewise an adjustable or retractable footrest, for full body comfort and relaxation.
More storage functions such as a USB charging dock, an IPad or tablet dock, side tray and LED light functions are some excellent features that you can consider.
---
Tips on Buying a Recliner with Cup-Holder
There is nothing like having your feet up, leaning back and enjoying a refreshing drink after a long day!.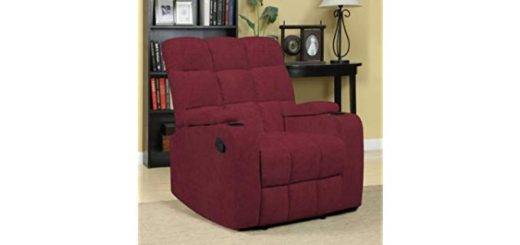 Well before we can get to this, you need to find the most suitable recliner with cup holder for yourself.
I would largely consider that you look at a leather recliner, particularly if you have children or pets that are easy to clean. Looking at recliners with cup holders that are a favorite among other homeowners is a good place to start.
There are two main options that will need to be addressed, are you looking for a manual or power recliner, which in simple terms, the one is operated by a button and works using an electrical cord, the other has to be operated manually with a level.
Both have no effect on the function of the cup holder, other than the power recliner may have an LED light for your cup holder.
To make the decision easier here; a power recliner lasts longer, is easier to operate, has more features, but is immobile, expensive and heavy. Whereas a manual recliner takes some effort to operate, has fewer features, but is mobile, lightweight and costs much less.
Once you have come to terms with this decision, the rest is easy, you need to look at the size and the space you have available, the upholstery types and lastly other additional features that you may require.
---
Reviews: The Best Available Recliners with Cup Holders
Following are some of our top choices in Recliners with Cup Holders.

1
The Esright Ergonomic is a Massaging recliner with the addition of a nifty cup holder and swivel function. A true powerhouse when it comes to relaxation in style and comfort.
Full reclining function with the addition of heating, vibrating and massaging feature.

Extra thick padding with soft and supple PU leather upholstery that is easy to clean and maintain.

There are two cups holders on each side of the armrests and four storage bags.

Likewise, you have a 360-degree swivel function and 150-degree recline.

A power recliner operated with a remote control with 5 modes and two intensity levels.

---
2
A gorgeous and comfortable home theatre seat, the Seatcraft Millennia is the ultimate when it comes to comfort and relaxation for pure entertainment purposes.

Upholstered in top grain genuine leather of the finest quality and craftsmanship.

A power recliner that will take you to a place of comfort and relaxation with the touch of a button.

A free tray table on each seat with stainless steel cup holders.

Available in a two, 3, 4 or loveseat row of seats.

---
3
The Bonzy Contemporary is an elegantly styled reclining chair that is durable, stain resistant, and comes with two handy cup holders.
A clean and casual contemporary style that will go well with rustic or contemporary home décor.

Extra durable construction from eco-friendly materials.

Upholstered in the finest PU leather that is stain resistant and easy to maintain.

Comes with two built-in cup holders for your convenience.

The backrest will recline to 110 degrees to 145 degrees and has thick and luxurious cushioning.

A manual recliner with a side latch for easy operation of the recline and footrest mechanism.

High quality, available in a brown or grey color upholstery.

---
4
The flash furniture contemporary Kids recliner is ideal for your little ones. Prevent spills and accidents with the nifty cup holders in a reclining chair that is so simple to clean and maintain.
A child-sized recliner available in many bright and fun colors for boys and girls.

Plush padding and easy to clean leather upholstery.

The footrest is covered with a plastic layer.

A durable hardwood frame and fire retardant foam.

There is a highly functional cup holder inside the armrest.

---
5
This is the ideal recliner for an elderly person or individuals struggling with mobility. the Everette power Motion recliner has all the unique and essential functions to provide you with the best support and comfort.
The Power Motion Assist function gives you a variety of motor powered adjustments.

Covered with durable PU leather and a layer of extra tough polyurethane is a shade of espresso brown, making this recliner stunning to look at and easy to maintain.

Strong and sturdy construction with super strength plastic legs.

There is a built-in USB port so you can charge all your devices.

The side arms offer storage space as well as a cup holder.

---
6
You already have the recliner, but you still want something to hold your drink, well this may be the answer for you.
The Couch Coaster is a well-designed one size fits all coaster that fits over the armrest of any coach, recliner or sofa that will securely hold your drinks.
One size fits all armrests and can hold almost all sized drinks such as cans, cups, mugs, and glasses.

You can keep your drink within easy reach and prevent knocks and spills on your favorite recliner.

Manufactured from flexible BPA free silicone with a tacky base that will provide the best support for your cup or drink.

Easily wraps over the arm of your recliner or sofa.

Available in a mocha brown color.

---
In Conclusion
Having a recliner with a cup holder is just so convenient, and likewise prevents spills and accidents caused by cups standing on side tables or the floor.
As you can see from our collection, there are so many features in recliners all that join the handy and opportune cup holder!
---
Index Table: The Best Available Recliners with Cup Holders
---
Please Rate this Article:
---
---