Bedsores and pressure sores have one main cause, Pressure,, either from sitting or laying down in the same position for very long periods of time.
Best Rated Recliner Cushions for Pressure Sores To Buy in 2022:
IMAGE
PRODUCT

Repose Premium Pressure Sore Relief Recliner Cushion

VIEW LATEST PRICE →

PURAP Clinical Pressure Sore Prevention Pillow for Recliner

Designed specifically to Prevent and Heal pressure sores
Clinically tested
Tough and durable materials

VIEW LATEST PRICE →

VIVE Gel Cushion Recliner and Wheelchair Pressure Sore Relief Cushion

Supportive comfort and pain relief from a variety of conditions
Optimal size for almost any chair type
Affordable

VIEW LATEST PRICE →
---
This is an unfortunate ailment, well known by many individuals who are ill and immobile.
A proper Pressure sore or Bedsore cushion can help a great deal on your bed or favorite seat, in this article though we are taking a closer look at some of the Best Pressure Sore Cushions and Pillows to use on your recliner.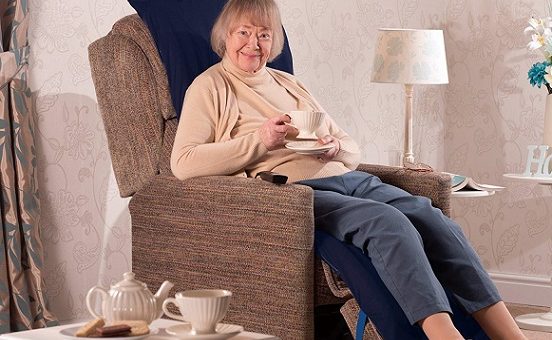 ---
Causes, Symptoms and Treatment for Pressure Sores
Like I have mentioned a pressure sore or bedsore is caused by pressure from being in the same position for a long period of time.
Too much pressure on a specific area on the skin over time can cause a pressure sore, because the blood flow to the area is reduced, causing the skin to lose its life, creating a painful sore.
Some Pressure Sore Causes
Individuals who sit in a wheelchair or stay in bed all day may easily develop pressure sores.

Older individuals who are less mobile may be more prone to this condition.

When you are unable to move certain parts of your body, and they are in a stationary position for long periods, pressure sores can easily develop.

Diseases that affect your blood flow, such as diabetes or vascular disease can similarly be causes.

Fragile skin tends to become damaged much more easily.

Improper Nutrition can also make you a more likely candidate for pressure sores and ulcers.

Some Pressure Sore Symptoms
Pressure sores start out as reddened painful areas on the skin, which later on turns into a blister and open sore, that becomes more sunken into your flesh until it becomes so deep that there may be damage to the muscle and bone tissue,
Certain sores that are a yellow, green, tan or brown color may likewise form because of the dead skin, or in your deep tissues.
Pressure sores are very likely to develop on your Buttocks, elbows, Hips, Heels, Shoulders, Back, Back of Head and Ankles, depending on where the pressure is exerted.
Caring for Your Pressure Sores,
While n severe cases you will need to consult a doctor, there are a few things you can do to relieve pressure on the area, and treat existing Pressure Sores and Ulcers;
Special Pillows, Cushions and pads on your seat can be very helpful and reduce pressure.

A specialized mattress or mattress pad, is ideal when you are in bed.

Pressure relieving cushions for your wheelchair.

Changing you're seated and lying positions regularly will prevent too much pressure on the same area.

Washing and cleaning an early pressure sore and covering it with a barrier cream will bring relief and protect it from fluids.

For a more severe pressure sore salt water can be used to clean it and special dressing used to provide protection against infection.

---
How a Cushion for Pressure Sores can Help
A Pressure relief Cushion can be used on a Recliner, Sofa, Wheelchair or any other chair that you sit or recline on for long periods, to ensure relief from pressure points and hotspots, as well as supportive comfort.
Pressure Cushions and Pillows are lightweight and easy to transport, as well as versatile enough to be used on any seat type, including your recliner.
Some Pressure relief Cushions come with a waterproof cover or barrier, which is ideal for individuals who have bowel or bladder conditions.
There are many types of Pressure relief Cushions and pillows made from a variety of material types, all that provide excellent relief. Memory foam is a favorite, because of its heat sensitivity and body conforming properties.
---
Some Recliner Pressure Sore Cushion Features and Characteristics
Memory Foam, Liquid, Air or Gel Fill.

Waterproof and Washable Cover.

It is designed to fit a Recliner or other chair forms, such as a wheelchair.

Adjustable fitting straps.

Design for recliner and bed for sleeping.

Curved design or a sinkhole in the center to protect the coccyx and tailbone.

Different size and thickness options.

Durable and long-lasting material.

Cushioning resilience that will not flatten over time.

---
Reviews: The Best Recliner Cushions for Pressure Sores
---
1
The Pressure Sore relief Contour Cushion is an overlay cushion that can be used on any lifting chair, for comfort and relief of pressure sores and ulcers.
It will similarly aid in preventing the development of pressure sores by reducing pressure on key areas of the body and providing you with soft comfort.
This cushion was developed in 1997 in conjunction with the NHS, and has already been used by over 3 million NHS patients in both hospital and home care sectors.

There is a secure strap system, for an easy and customizable fit.

The specialized materials used in this cushion evenly disperses, your body weight across the entire cushion to prevent pressure points.

The item is extremely durable and long-lasting, and comes with a two-year warranty.

The Contour Pressure relief cushion is inflatable and comes with an easy to use a pump,it is easily portable, and deflates quite small, so that you can use it anywhere.

Lightweight yet highly durable construction.

---
2
What I love about the PURAB Cushion is that it is versatile enough to use on your bed, sofa or even on a recliner.
It offers excellent Lumbar support and reduces pressure with the 3D rotation technology while providing superior comfort and support for the entire body.
Designed specifically to Prevent and Heal pressure sores, it reduces pressure on pressure hot spots and dissipates pressure by evenly distributing weight.

All the at-risk areas such as you coccyx and sacral areas are provided with extra protection.

This cushion is Clinically tested, and comes with the superior,3D Flotation technology, which by far outperforms gel and foam, because it alternates air and pressure for comfortable rest.

It is manufactured with tough and durable materials that will last with frequent use.

Easy and comfortable enough to use on your Bed,Sofa, and recliner.

---
3
The Vive Wheelchair Cushion is the perfect shape and size to fit not only your wheelchair, but similarly a recliner, sofa or any other form of a chair.
Offers Supportive comfort and pain relief from a variety of conditions.

Reduces pressure points and hot-spots, as well as aiding in improving blood circulation, and spreading weight evenly for less pressure.

There are two top layers, that cover the cushion which is completely Waterproof.

It is the optimal size for almost any chair type, specifically a recliner and wheelchair.

The Liquid Gel Core, with dynamic fluid fill disperses pressure evenly across the contact surface for excellent relief in pain from pressure sires, as well as pressure sore prevention.

There are four layers of the comfort of which two are waterproof included in this superb pillow for your complete pain-free relief and comfort.

---
4
This Extra Large and plush seat cushion from ComfySure features a plush yet firm memory foam fill, that contours to the shape of your body offering excellent pressure relief.
The perfect size to use on any chair type, including your wheelchair, recliner or even an office chair, for many hours of pain-free comfort and support.
Filled with premium quality memory foam, that is designed to keep its shape for a lifetime, and that similarly molds to the shape of your body for ideal comfort and support.

The non-slip rubber bottom, ensures that you can sit on even hard surfaces with total support and durability.

Comes highly recommended for individuals with Sciatica, Gastric reflux, Fibromyalgia, Carpal Tunnel Syndrome, Pregnant Mothers and the elderly.

The Velour cushion cover is soft and luxurious to the touch while being machine washable and removable, so that you can keep your cushion clean and fresh at all times.

This cushion offers firm therapeutic support, to relieve pain, reduce pressure points and give you a much better posture and spinal alignment.

A U-Shape cut, to reduce pressure on your coccyx and tailbone, and enhance better blood circulation.

You will be able to enjoy sitting for many hours on your favorite chair, without any pain or discomfort.
---
5
Other than the PURAP model that I mentioned which can be used to sleep on for beds and recliners, this is only a seating cushion that you place on the seat of a chair.
The PURAP technology is the finest technology when it comes to Pressure sore and Ulcer relief, and prevention, thus why I chose yet another model from this superb brand.
Designed ideally to fit any, recliner. Lift chair, Wheelchair, and any other chair, for that matter comfortably and without any hassle whatsoever.

Will completely eliminate hot-spots, and dissipate pressure to give you complete comfort and pain relief.

Prevention is key with this pillow, as it disperses your weight evenly, and provides excellent pressure resistance, you will not get pressure sores or ulcers developing.

A flexible and comfortable shape that will fit any chair type, and even a scooter.

The 3D Flotation technology is just so much better than any form of foam, air or Gel filling that you can get, as the fluid layer will never pack down.

Completely clinically tested the 3D Flotation technology, will surely offer you the best results, that are tested and comfirmed by the Stanford University Hospital.

---
---
Please Rate this Article:
---
---