Nothing comes close to the lavish comfort and exceptional support that memory foam offers. So why not consider this as a feature when purchasing a luxury comfort recliner for your home.
Memory foam has so many exceptional and beneficial benefits that it only makes sense that this is one of the most important materials used in a piece of furniture that you are going to be spending copious amounts of time in.
---
Benefits of Memory Foam Recliners
Memory foam itself in any piece of furniture whether a mattress, pillow or recliner offers some superb benefits;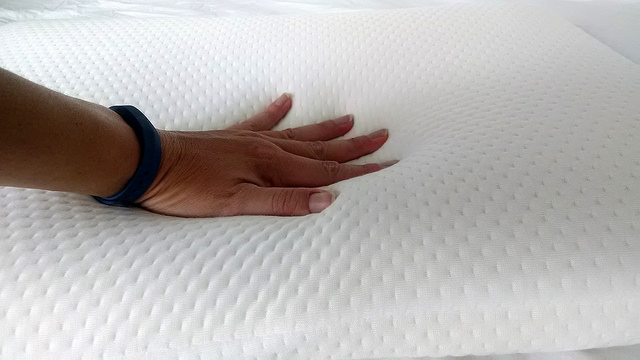 Pressure Point Relief – Memory foam was created initially to cushion and comfort patients in hospitals and intensive care units. When you lay in the same position for a long period of time the pressure can cause circulatory problems and tissue damage causing pain. Memory foam aids in preventing pressure points and relieves pain in sensitive areas.

Support – A memory foam recliner offers support to every part of the body evenly as well as individually, by means of spreading your weight across the seat and backrest. Thus providing excellent support for your back and helping to keep your spine in the correct alignment.

Pain Relief – Memory foam is likewise an excellent pain reliever. The combination of support and pressure point relief helps to not only reduce the feeling of pain but in turn to prevent it.

Many Positions – You can be seated in any position that is comfortable for you, memory foam will offer you the best support with n pressure points.

Motion Control – When it comes to memory foam you need not to worry about disturbed rest because of your movement causing waves.

Dust Mite Control – Dust mites are unavoidable and found in every home, a recliner is an ideal spot for dust mites to gather. Memory foam has the distinct advantage of discouraging dust mites from gathering because of its dense structure.

Hypo-Allergenic – A memory foam recliner is perfect for those who suffer from allergies because the dense structure repels most allergens like, pet hair and mold.

Care and Maintenance – Memory foam is quite low maintenance and only requires some light vacuuming.

Durability – The other excellent benefit of memory foam is its ability to last and to withstand constant use.

These are just some of the wonderful advantages you can look forward to in a memory foam recliner.
---
Availability of Memory Foam Recliners
Memory foam pillows and mattresses are the latest in innovations and are readily available. Though recliners are only recently inviting this new form of padding, there may be quite a few manufacturers that have this option available for you.
I would recommend inquiring online and then finding a brand with good reviews and customer satisfaction.
Keep in mind that memory foam is still a expensive oddity, so a memory foam recliner, likewise, may be expensive.
Also take care to regard other features and characteristics hosted by the recliner beside memory foam;
---
Features of a Good Memory Foam Recliner
Solid or shredded memory foam inners padding with or without pocket coils in the seat.

Memory foam inside the seat, backrest and likely the armrests and footrest.

Retractable footrest.

Different recline positions.

Choose between manual or power.

Lifting features.

Swivel features.

Cup holders, side pockets or attachable trays.

Leather or fabric upholstery.

Size, wall hugger, zero walls, or large and plush.

USB ports, LED lighting.

Plush armrests.

Durable steel or wood frame.

Style and finishing detail to suit your home décor.

---
Reviews: The Best Memory Foam Recliners
1
Superior soft comfort and support, the Serta Big and tall is the grandfather of all recliners. Think plush, think indulgent and mushy!!! This is what this recliner offers you.
Features a tall backrest and oversized build for luxurious, exquisite comfort.

Generously padded with memory foam to give you maximum support.

Also has a USB charging port and storage space in both arms.

The seat cushions are filled to the brim with soft foamy padding.

There is a built-in multi-setting dual motor that provides a back massage and fingertip operational controls.

Easy recline and seat adjustability.

---
2
The Vanbow reclining Office chair features plush memory foam comfort, and excellent back support.
Has a strong and solid heavy duty nylon base and nylon rolling casters for easy movement.

Bonded leather upholstery in an elegant design for a unique style.

There is an easy to use retractable footrest and adjustable seat height, with a flexible reclining mechanism.

Offers exceptional lumbar support and has a waterfall seat edge for further comfort.

High back design with soft memory foam padding in the back and seat.

---
3
The Major-Q Bianca offers you both style and comfort. This recliner is well padded with memory foam and available in a multiple ranges of colors for every home.
Tight and plush padded memory foam seat and back.

Pillow top armrests for further support.

High-quality upholstery with detailed design stitching available in many colors to choose from.

Kick up your feet with the pull-up side tab and change recline positions with the touch of a button.

---
4
There is nothing as therapeutic and supportive for the entire body as the Zero gravity Chair. The Human Touch perfect chair is by far one of the best Zero Gravity options in recliners that you will find, plus it is padded with memory foam.
Reduces stress, lowers blood pressure and relieves aches and pains, with the zero gravity position.

Has an ergonomic design control panel for different memory settings to give you the ultimate in recline positions.

A molded contoured lumbar for excellent back support.

Fully adjustable recline and leg rest.

Complete with memory foam armrests, back, and seat, fully upholstered in high-quality material that is luxurious to the touch.

---
5
The Catnapper is also a name that you may have seen quite a few times when searching for that ideal recliner. And yes, it is all that, luxury memory foam, chunky and plush fabric with an extended footrest. The Catnapper Malone is large and comfortable, to put it plainly!!!
Chunky and durable velvet fabric for a soft and smooth comfortable feel against your skin.

The extended footrest gives that additional comfort and support required for superior relaxation.

A metal seat box and reinforced steel frame for superior durability and long-lasting support.

Comfortable coil seating with gel memory foam inserts.

Easy and adjustable recline positions.

---
6
The ACME Furniture Bina Recliner is available in a range of upholstery color for you to choose from.
Padded with 10mm of plush and comfortable high-grade memory foam.

A motion reclining function that is easy to operate.

The seat has memory foam pocketed coils for support.

A durable and long lasting frame and pillow top arms.

---
7
The Deluxe from Serta has a Tall back design and is filled to the brim with luxury memory foam.
Upholstered in comfortable and durable PU leather.

An office chair recliner with recline capabilities and a Tall supportive back.

Plush and supportive memory foam padding and a cushioned seat.

a large and comfortable office or gaming chair with the comfort of memory foam.

---
8
The KILLABEE is made for the larger individual requiring extra length and width, this Chair has a sturdy frame that can hold up to 400lbs.
A gaming and office chair with memory foam filling and padding.

Tall and large design with a 400lbs weight capacity.

An integrated sturdy metal frame and explosion proof Gas spring.

Smooth rolling casters for gliding function and rocking high back design.

---
For lasting comfort and support, there is nothing like a memory foam recliner!
There is nothing more comfortable and satisfying than memory foam, so why not try it in your favorite relaxation spot, your recliner.
---
Index Table: Top Rated Memory Foam Recliners
---
Please Rate this Article:
---
---