Preparing your kids for adulthood is not an easy job, but there are ways to make it easier! If you're wondering what a kid's recliner has to do with that, then scroll down for more info.
We also discuss kids' recliner buying precautions, their best features and offer a selection of some of the best recliners available for kids.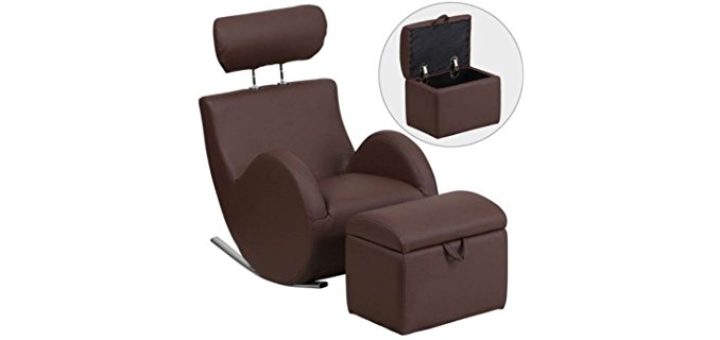 ---
Why Do Children Need Special Kid's Recliners?
The answer to this question is rather simple. Children do not have the same sized bodies as adults. The proportions of a bigger recliner chair are not correct for the child.
The back rest, leg rest and arm rests are spaced too far apart which will cause the child to sit in unnatural positions.
That means that if they sit in an enormous adult recliner chair, they stand the risk of developing back problems at a later age.
A kid's recliner has the right proportions for children, maintaining the back, head, and legs in a good position. The other side of kids recliners is that children love to play make-believe and try on many different adult roles for fun and games.
Having their own special recliner can help them feel like an adult and will also encourage them to respect furniture from a younger age.
---
Kid's Recliner Buying Precautions
Here are some useful tips to consider before going to buy a recliner for your child.
Cleaning – Everyone knows kids are traditionally messy! This is why it is imperative that you look for a kids recliner which is either easy to clean or one that you can afford for your child to mess on.
Use – Kids love to jump, play and let loose to have fun. This can mean bad news for the recliner and the floor, depending on your living environment. If the recliner is going on a hardwood floor, make sure that you glue carpet pads, or something similarly protective, to the underside of the recliner to prevent scratching of the floor. If your kids like to draw all over the furniture or have a tendency to rip through the fabric, getting a cover for the recliner is also recommended.
Duration – Remember, a kid's recliner is smaller than an average recliner. That means that one day, your child will outgrow the recliner. If that time is near, then opt for a kids recliner that doesn't break the bank.
---
Features of a Good Kids Recliner Chair
The best features that your child's recliner could have are:
Water Resistance – If your child loves to play with water or is adept at making a mess, then try to find a water resistant recliner. Bonded or PU leather upholstery tends to be easy to wipe clean without leaving stains. If you prefer a softer upholstery, a recliner cover for a fabric recliner is another solution.
Storage Space – The more storage space the better! Kids love to hide their toys and often use storage space to play. A cup holder is also a novel idea, making it less likely that the child will spill while watching television or reclining.
Lots of Padding – A recliner with lots of padding will last longer, especially if your kids enjoy to jump up and down on the furniture! It's also better for their posture and helps to encourage healthy sitting habits from a young age.
Rocker Reclining – If your child already likes to rock back and forth on their chairs, then a rocker recliner is a better way to go. A chair with a built-in rocking system will ensure the floor does not get harmed and that the child has no chance of falling over or damaging themselves either.
The Favorite Color – This may not be a concern to you, but many children are quite visual and will appreciate it if their recliner is in their favorite color.
---
Reviews: The Best Kids' Recliner
Below we have compiled a list of reviews for the most popular kid's recliners. Each of them is just a click away from your shopping cart!
---
1
Here is a perfect replica recliner for kids that is made to look identical to contemporary adult recliners.

Upholstered from durable vinyl bonded leather, this recliner is manageable to clean and child-friendly.

Overstuffed lumbar support and arm rests make this a very safe and comfortable chair for kids to relax in.

The arm rests unfold to reveal two hidden storage compartments, making it perfect for your kids to play or store their toys in.

Choose from a selection of 14 different colors to appeal to your child's preferences.

---
2
Upholstered in a water resistant bonded leather, this recliner allows for kids to make a mess without much of a hassle.

Designed to provide optimal head support and encourage a healthy posture for later development.

Comes included with a cup holder, ensuring your child is less likely to spill when watching television with the family.

The recliner allows for your kid to lean all the way back, creating the perfect spot for nap time.

Available in 16 different bright colors to choose from to allow you to match your child's room.

---
3
This simplistic recliner is comfortable and will last your kids many years filled with joy, naps and fun!

Cost-effective and durable, the recliner is upholstered in water-resistant PU leather to allow for spills or mess.

Padded with plush 25-Density sponge to keep your children comfortable and supported.

Your kids can adjust the recliner in three different positions, allowing them to decide how they want to relax or watch television.

An ideal playroom or lounge addition, your kids can watch their favorite movies, nap or get comfortable with a book.

---
4
If you are looking for a softer kid's recliner that is not upholstered in leather, this fabric microfiber will make for the perfect companion to your child.

Specially designed to handle spills, the recliner can be cleaned with a damp cloth and is stain resistant.

The cup holder in the side makes spillage even less likely, allowing kids to store drinks, snacks or even a water jar for painting.

Available in many bright and funky colors which are bound to compliment your kid's personality.

Let your kid feel like a part of the family on movie nights by purchasing a special recliner just for them!

---
5
If your kid loves padded seat, then this recliner chair is the ideal solution.

Allow your child to put their feet up on the ottoman and lean back into any number of positions they like!

The storage arms can be used for toys or buried treasure that your child may possess.

Covered in a water-resistant microfiber, staining or messing liquid is not a problem with this recliner chair.

Designed with a firm back to give your child the best possible ergonomic back support.

---
6
The JC home Bilbao kids recliner features a functional cup holder and highly supportive headrest for your little ones.
A thickly padded and supportive headrest, and thickly padded seat.

Filled with Fire retardant, foam.

Handy cup holders in the armrests and very easy to clean upholstery.

Stong and stable with a solid wood frame.

Easy to use recline mechanism.

---
7
For the little ladies here is the pretty in pink wibndaze recliner in a bright pink PU lether upholstery.
Durable and easy to clean PU leather upholstery.

A padded headrest and soft and comfortable seat filled with durable sponge.

Cup holders for snacks and toys.

A heavy duty constructed the iron frame.

Safe and easy to use recline mechanism.

---
8
From Costzon Kids we have the lovely pink W/deluxe recliner for girls.
A wood and iron frame for quality and stability.

Filled with a soft sponge for comfort and upholstered in a smooth and warm flannel material.

Wider seats and soft back cushion.

Very lightweight and easy to move around.

Easy and safe recline positions.

---
Comparison Table for Kids Recliners
---
Please Rate this Article:
---
---