Let's face the facts, a recliner is an expensive piece of furniture, but also keep in mind that it is a large investment with aesthetic and functional purposes that are unsurpassed.
A recliner is a luxurious addition to your home, and I would go as far as to say, almost a must-have in every home.
In this article I am going to set a Budget of $200, an see what I can find in recliners of the Best Quality, with Good Features.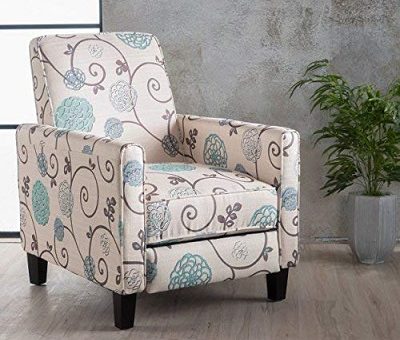 ---
Considerations Before Choosing a Recliner
There are a few things to look at before you decide on a good Budget friendly recliner, that may help in your decision;
Where to Put The Recliner:
First off you need to confirm where you will need your recliner the most, in your bedroom, living room or study, and if it is practical and aesthetically pleasing in that area.
Space : You need ample space for a recliner, and many individuals forget that in a reclined position, footrest out, this seat becomes almost double its size. Therefore, consider the space you have available.

Materials : There is a variety of Upholstery choices when it comes to recliners, and this is the main concern.

Upholstery : Your upholstery choice will depend on the use of your recliner and whether you have pets and children which may increase cleaning and maintenance necessities.

Base : The and Framework of you recliner must always be strong and sturdy, either of metal or wood. Make sure to check the weight capacity in turn.

Features : The features will depend on your luxury and comfort requirements. Although it will be hard to find a Powered recliner with heating and massaging features in our budget, there are still some other small convenience features you can look at.
---
What to Look for in an Affordable Recliner
Sturdy Design
Make sure that the framework is durabnle and strong, and made from quality wood or metal. Likwise check the mcahnism to see that it works properly and is also strudy and good quality.
UPHOLSTERY MATERIALS:
There are a variety of upholstery fabrics you can choose from, some more expensive than others, but each with its unique features;
Natural Fibers
Natural Fibers such as Linen, Cotton, and Wool, can be quite expensive, but they are durable, as well as resistant to fading, wrinkling and stains. Opting for a blend may give you the best of both worlds, with a more affordable price tag.
Genuine Leather
Genuine leather comes in different grades, from natural rawhide, to a more refined leather, but it is very expensive and requires some maintenance. Genuine leather is durable and luxurious, and can be timeless when well taken care of.
Polycotton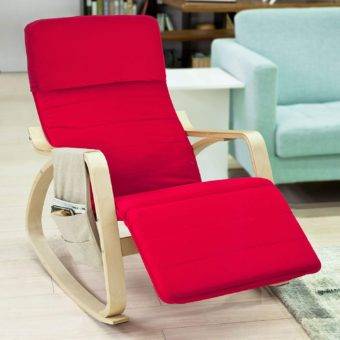 Polycotton is a favorite of mine, it combines Cotton and Polyester, to give you an affordable option that is just as stain resistant, breathable and durable as pure cotton.
Faux Leather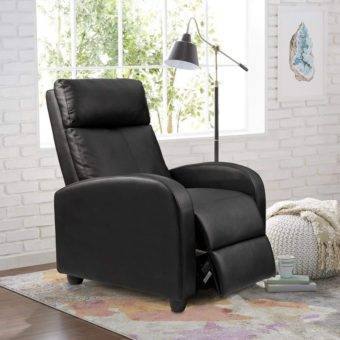 This is the next best thing, and quite affordable. Vinyl and Polyurethane are tough leather substitutes that will give you that luxurious feel and appearance of leather, while being durable and easy to clean and maintain.
Microfiber:
I second very affordable material and surprisingly durable, stain resistant, and water repellent, is MICROFIBER. It has a soft and luxurious feel and is quite an impressive quality material, I must say.
Cushioning
Cushioning in your recliner is normally foam based, the higher the density the better, and keep in mind resilience, so that you don't have a sagging recliner after a few years.
The seat usually has pocketed foils and then cushioning, whereas the backrest and armrests are foam padded.
Features
Your features in an under $200 recliner may be a bit limited but you will still enjoy two or more reclining positions, a retractable footrest, and maybe a cup holder, side storage bag, and additional headrest.
Manual VS Power Recliner
Power Recliners are unfortunately very expensive, they come with additional features such as massaging, heating, lighting and power Lift options.
I have included one very good quality brand power recliner in my list, although it is slightly above budget.
Manual recliners are just as comfortable as their power counterparts, though they may have fewer features.
---
Recliner Features and Characteristics
Microfiber; PU Leather; Polycotton or Polyester Upholstery with durable and neat stitching detail.

Manual recline with a lever or pull handle.

Retractable footrest.

Side storage Pockets.

Padded armrests.

Foam padding in the back and seat.

A strong frame of wood or steel.

Rocking, swiveling or Gliding features.

Higher Back.

Extra large and plush design.

---
Reviews: Best Cheap Under $200 Recliners
Prepare to be stunned and highly surprised at these spectacular and exceedingly well-designed, yet AFFORDABLE recliners;
1
We start off with a simple yet elegant, modern designed PU leather single recliner chair. PU leather is highly durable and easy to maintain while having a quality and expensive appeal to it.
This is a very affordable yet highly functional and durable piece, that I would highly recommend if you are on a budget.
Some great features of this recliner are; an adjustable footrest, push-back recline function, wider armrests and different recline positions.

The foam padding is made from a high-density thick sponge with a larger and plusher seat for superior comfort and relaxation.

An important factor to note is the very durable and sturdy frame, made from high-quality steel.

PU leather is a type of faux leather that is durable, tough and very easy to maintain, with the same sleek and classic appeal as genuine leather.

---
2
Small, Simple, Clean Cut with a fresh and cool design, ideal for patio and poolside use, or even in a beach styled, or contemporary home. What more do you need in a recliner, the Haotian features all the comfort and functional characteristics you need, in a high-quality frame and upholstered design
This recliner has a cool and easy going feel to it, and what I like most is the fact that it comes in an extensive range of color options.

features full recline positions as well as a Rocking Chair function.

Upholstered with breathable and durable Polycotton material that is well cushioned for comfort and support.

The frame and armrests are manufactured from durable and high-quality Birched Veneer with an Acrylic Lacquer.

The cover is washable and the high cushion quality and plush.

There are mats at the bottom of the chair legs to prevent damage to your floors.

---
3
The ACME Arcadia is a plush oversized manual recliner, that is attractive and comfortable with soft and durable Microfiber Upholstery which is stain resistant and water repellent.
Microfiber is another very high-quality material used for upholstery with many benefits, one of which being that it is quite affordable.
This is a large a comfortable recliner with a sturdy hardwood frame and armrests.

There is a side knob so you can easily and manually recline your seat, as well as an easy pull lever to extend your footrest.

The Microfiber upholstery is very durable, stain-resistant, and water repellent, as well as being soft and aesthetically pleasing.

Thick cushioning and padding for a plush and comfortable feel.

Available in a few neutral color options to blend in well with any background décor.

---
4
This one is slightly out of our budget, yet for its functions, quality and the brand Giantex, this is an excellent and affordable investment.
I have chosen this specific model not just because its affordable, but likewise to accommodate individuals who need a Powered recliner and the functions of a Lifting Chair.
Boasts excellent smooth reclining features, with an extendable leg rest, all which is remotely controlled.

Lifting function, perfect for people who struggle with mobility or for elderly individuals.

Padded with soft and resilient foam in the back for perfect back support, and the seat and armrests are padded with thick high-density foam for comfort and support.

A handy side pocket for storage of small items.

Available in brown, black and Beige, PU leather upholstery, which is durable, easy to clean and superb quality.

Giantex is a tried and trusted brand in furniture and recliners, so you are sure to get the best, for less.

---
5
The Great deal furniture Recliner I have chosen here is the Lucas Gray style, although this specific piece is available in 13 different colors and designs, one with lovely floral print, as well as Leather or Fabric, options to choose from.
It is the perfect size for any home, well designed and made for durability, comfort, and functionality, with the basic features at a very affordable price.
A modern contemporary sleek and clean design available in a range of prints, colors, and fabric or leather options.

Amply padded seat, backrest, and armrests,for superior and long-lasting comfort and support.

Features multi-position recline functions that reclines smoothly and easily.

The frame is made from very durable and sturdy hardwood.

Fabric or leather upholstery options, of the finest and most durable quality.

---
6
A stunning and highly functional Glider and recliner in one all for under 200$.
An excellent option for a nursery or children's room.

Sturdy design with a stainless steel frame and easy gliding system.

Smooth and easy recline and ergonomic design.

Plush padding and durable and soft upholstery.

---
7
The FDW recliner Cahir is a gorgeous addition to any home at a very affordable price.
Brown leather upholstery and plush padding and cushioning.

A sturdy and durable frame.

There is a dual function foot extension, and a reclining back.

A sophisticated and modern design.

---
8
A top brand at a low cost, the relaxzen is a reclining cahir especially designed for teenagers and children with storage arms and cup holders.
Overstuffed and comfortable with durable and easy to clean upholstery.

Features

Easy push back recline and retractable footrest.

Comes with a USB charging port.

---
Quality and functionality, does not always have to come with a hefty price tag, I have managed to seek out some of the best quality and highly functional recliners of every type and style, all under the $200 limit for you to choose from.
You can be assured that each of these come from popular and trusted brands that offer you the best in excellence and craftsmanship.
---
Index Table: Best Cheap, Under $200 Recliners
---
Please Rate this Article:
---
---