Big and tall recliners can be difficult to find and yet they are a necessity to many big and tall people!
In this recliner buying guide, we have outlined a few of the main big and tall recliner buying precautions, what materials these recliners should be made from, as well as highlighting some of their best features.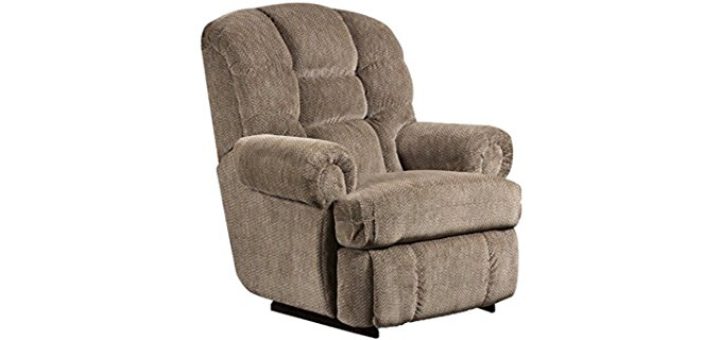 ---
Big & Tall Recliner Chair Buying Precautions
There are a few pre-purchase considerations you may want to take into account before purchasing a recliner chair.
Wall Space – Most recliners take up a lot of wall space and are usually used in the center of a living room area. If you need a big recliner in a small apartment, you will need a wall saving or space-saving recliner.
The Leg Rest – The majority of recliners for big and tall men have a leg rest that is not long enough with a back rest that's just right. If you intend to spend the majority of your time reclining, then this is not so much of a problem, but if you also wish to use the recliner as an armchair, it may be too short for your legs.
Height – The biggest issue with shopping for recliners is height. If the recliner is too big or too small, it can cause back problems in the long run or be uncomfortable from the word go. Make sure to compare your height and width with the sizing of the chair.
---
Sturdy & Durable Recliner Materials That Last
The following materials are the best for your recliner and here's why:
Hardwood – hardwoods such as pine, oak, beech and birch woods are very sturdy. These woods have been used for centuries in furniture and have lasted for just as long too. Softwoods such as plywood are not good choices for recliners as they are prone to snapping.
Stainless Steel – Stainless steel is tough and will also last you a long time, provided it is not hollow or used in thin applications. Stainless steel is rust proof and is better to use in places that have a higher moisture content in the air.
Hybrid Padding – The term hybrid is used to describe two materials that have been used in combination together. As in the case of mattresses, hybrid padding in a recliner chair is a combination of sinuous springs and foam. This makes for the best back support available, balancing comfort perfectly with sturdy support.
Microfiber – Microfiber upholstery is made from a synthetic blend of fibers which are usually treated with stain resistance and antimicrobial substances. These fabrics last longer than traditional natural fabrics and can be washed in the washing machine.
Leather – Leather has always been an all-time recliner chair favorite when it comes down to upholstery. The best quality leathers last for many decades and look incredibly stylish. Bonded leather was invented to create a waterproof leather that does not stain and is easy to keep in a pristine state while still achieving the look of traditional leathers.
---
Features of a Good Big Man Recliner
These are some of the best features that belong to the top big and tall recliners on the market.
Zero Gravity – Zero Gravity recliners recline to a 170-degree angle, lifting your knees above your head and aligning your head with your heart. This position reduces the force of gravity upon you to zero, which increases blood flow and alleviates all the pressure points off your body.
Fully Adjustable – A recliner chair that is fully adjustable allows you to recline to any angle that you want, adjusting the arms, headrest or leg rest in any way that you like to get comfortable.
Power Recline – A power recliner is a recliner that is run by two separate motors for the best possible recline mechanism. Power recliners also allow you to lift the leg rest independently from the head-rest and are usually electronic.
Lumbar Support – A recliner with the right degree of orthotic lumbar support ensures that you never develop back problems or neck pain after using it for a long time. It also feels much more comfortable for you and saves you the hassle of needing a pillow for support.
Heat & Massage – Both heat and massage tend to go together in a recliner chair, even though they are two separate features. The ability to lean back into a heated seat while having it vibrate all the tension in your joints away is one of the best, especially after a long day of tiring work.
---
Reviews: Best Big and Tall Recliners
In this section, we have compiled a list of big and tall recliners to get you started in your search for one!
---
1
This rocker recliner is built on solid stainless steel frames with a very comfortable hybrid padding for superior results.

Oversized for a big or tall person's comfort, this Catnapper will have you at rest in no time!

The plush quilted design promotes deep comfort that hugs your body as well as back pressure point alleviation.

The foam padding is made with quality eight gauge springs to bring strength, comfort, and conformity into the equation.

Upholstered in soft polyester fiber, this chair is less likely to stain and can be spot cleaned for easy maintenance.

The mechanism is quiet, whether you are rocking back and forth or reclining into your favorite position.

---
2
This recliner was designed for larger or taller individuals, offering a stable base that can fully recline into any position you desire.

A quilted back and well-padded armrests allow for maximum comfort while resting, watching TV or reading a good book.

Comes in a selection of neutral colors that will match the majority of interiors, adding comfort and style to your living space.

Covered in a microfiber upholstery, the chair can be wiped clean and is soft to the touch.

Can take up to 350lb as the total weight capacity, accommodating those with larger bones or bodies.

---
3
This recliner chair means business, being able to hold a weight capacity of 500lbs and designed for big and tall people.

When fully reclined, the recliner takes up the span of a full-sized bed, doubling up as a comfortable guest bed if you ever needed one.

The backrest is well padded for optimal back support and comfort, allowing you to just sink back without worrying about your posture.

Built on a durable frame and upholstered in a soft material, this oversized recliner chair will last you for years.

---
4
This oversized recliner chair and ottoman combination has been a favorite addition to many studies and living rooms alike.

Covered in a very stylish black bonded leather, the recliner will look perfect for all the time it will last.

Built upon a well-constructed mahogany wood base, the recliner is designed to withstand a larger weight capacity than usual.

The back and leg rest (the ottoman) are fully adjustable, allowing you to get comfortable exactly how you want to.

The back rest is ribbed for luxurious lumbar and back support, providing exceptional comfort as well as style.

---
5
This very large recliner chair is designed with an extra wide seating to accommodate big men and larger people.

The durable construction will last you a few years minimum and can withstand a substantial weight load without wearing out.

The backrest and armrest are equally overstuffed for superior comfort as well as fantastic support.

The padding consists of high-density foam wrapped in soft foam, giving you a firm back support that cushions your shape.

The recliner is fully adjustable, allowing you the freedom to recline into any position you like.

---
6
A stunning Contemporary styled Recliner from NHI express, with an easy to maintain and durable microfiber upholstery.
Very Large in size with a taller back.

Microfiber upholstery that is durable and easy to clean.

Durable and sturdy hardwood frame.

Comfortable and stain resistant.

Large contemporary recliner

---
7
An Ultra Plush large and wide recliner that you can easily relax and sleep on.
Available in brown and black color options.

Extra wide, extra large and extra plush design.

Can recline fully into a sleeping position.

Overstuffed padded seat and back.

---
8
This is a heavy duty Power Lifting Recliner that features a wide seat and taller backrest.
Modern design and highly functional.

Overstuffed pillows and wider seat.

High Grade Anti-Skid Upholstery.

Higher back and wider seat with a thick and plsuh cushion.

---
Indfex Table: Top Rated Big and Tall Recliners
---
Please Rate this Article:
---
---