A recliner has the function of providing superior comfort and relaxation, but what if you need mobility as well?
Most office chairs have wheels and swiveling functions that are additional features to the recline feature which keep you comfortable while you move around. Similarly, there are other recliner chair types that also have wheels as a functional characteristic.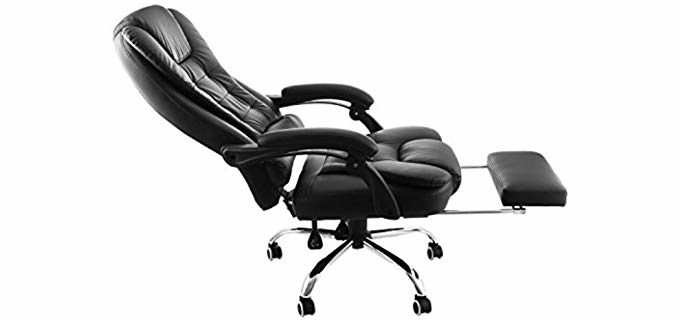 ---
Uses for a Recliner with Wheels
Here are a few types of Wheeled recliners and their functions.
As an Office or Executive Chair
Most office and executive chairs have wheels or casters, as well as a swivel and tilt function, with a locking mechanism.
This allows the user to stay seated while still moving around, leaning, and laying back as required to perform work tasks during the day.
Versatile Use and Easy Storage
I have found a recliner that can be almost completely folded and wheeled away for easy storage. If you are pressed for space a small recliner on wheels could be just the answer that you are looking for. When its time to work, just push it out of the way, and when you want to relax, you can pull it closer and unfold it.
Sleeping Multifunctional
Another multifunctional recliner on wheels, the recliner that folds into a bed. It is simple to use, and extremely useful and versatile, connecting the function of both a seat and a bed.. Even better this beauty comes with wheels for easy movement to where you need it most!
For Medical Use
Like the Geri Chair there are many chairs with medical functions;
Those used in medical practice, for example, the dentist.

Chairs used to transport patients around the hospitals.

Those used for dialysis patients.

Chairs for the elderly or immobile individuals.

Reclining Wheel Chairs for post-operation patients that need time to recover.

These chairs are equipped with plenty of support and comfort feature to aid those who are in pain and struggle with mobility. All of these chairs have a recline function and wheels.
A Gaming Chair
Let's not forget about the gaming chair. Some gaming chairs are equipped with so many luxury features that they can be used a comfortable luxury recliner just to relax and watch television on.
Most gaming chairs come with wheel casters and similarly feature swivel, and recline functions. I have even found some models with massage functions and additional features such as cup holders and USB ports.
---
Some Features in a Recliner with Wheels
Reclining mechanism that is either powered or manual.

Supportive cushioned armrests.

Casters or wheels that are sturdy and have a good weight holding capacity.

Comfortable and easy to maintain upholstery.

Soft and supportive padding.

Locking mechanism for wheels and tilt or recline functions.

Swiveling or tilting functions.

Heating and massage features.

---
Choosing a Recliner with Wheels
When choosing a recliner with heels the most important consideration is the function of the recliners. Do you need something for the office, for home, or as a medical device?
Then you will need to make sure that the area it is going to be used in has enough space so that you can use all of the functions of the chair, such as the footrest and recline, with ease.
Similarly, there are other features and purposes that you can consider that are additional.
The most important aspect in choosing a recliner with wheels, according to my perspective, is the quality and durability of the wheels, and the weight capacity that they can hold.
I would likewise check for the availability of replacement wheels, just to be on the safe side.
---
Reviews: The Best Recliners with Wheels
1
The Drive Medical Geri Chair is one of the most popular, available medical chairs that feature three-position wheels and elevated leg rest.
Ideal for post-surgery recovery or other medical conditions that may cause immobility.
There are three positions to choose from, upright, deep recline and the elevated leg resting position.

There is a retractable lock bar that secures the chair in your position of choice with 5 casters and 2 locks making it easy to move and recline.

The seat will not bottom out because of the self-adjusting suspension and there is a moisture barrier covering the seat.

The armrests are wide and comfortable as well as angled for better support in any position of recline

Comes in a neutral color with a sturdy steel frame and covered with foam and vinyl.

---
2
The perfect office chair that will get you through a hard day. The AmazonBasics High Back executive chair can be used as an office chair or chair at home for all day support and comfort.
The height of the seat is fully adjustable to give you the ideal seating position.

There is similarly a tilt and rocking function with a tension adjustment knob.

Upholstered in PVC bonded black leather for easy maintenance and durability.

Nylon Casters and a 360 degree swivelling function, for easy movement.

---
3
Welcome to the OFM Power Rest, all-day comfort in a mobile chair!
An ergonomic design with multiple height settings and lift and tilt locking mechanism.

Fully upholstered in a Burgundy color vinyl that is smooth, supple and easy to maintain.

There is a pullout footrest for further comfort and convenience.

The 5-star wheelbase can hold a 250-pound weight capacity and will allow for fast and easy movement on any floor surface.

---
4
The Homgrace Swivel chair with wheels is the perfect gaming chair, with an additional massage function. This chair correspondingly makes for an ultimate comfort chair for any occasion or purpose.
A comfortable ergonomic design that features massaging function to soothe and ease sore muscles, and likewise aid in circulation.

Good quality PU leather upholstery that is softly padded for superior comfort.

The seat height is adjustable with a reclining function.

There are a locking and tilting system.

A heavy duty chair with a stable structure and tough casters for easy movement.

The 360-degree swivel function, adjustability, and massage functions make this the flawless everyday chair.

---
5
An excellent choice in a wheeled swivel chair both for home and the office, you cannot go wrong with the Happybuy Executive recliner.
Features a recline, and tilt function as well as a slide out footrest.

The armrests are extremely resilient and comfortable.

Durable casters for easy movement.

A luxury style chair with quality synthetic leather upholstery and thick padding.

The height and armrests are fully adjustable.

---
To Conclude
There are many uses for a reclining chair on wheels, whether it is for medical use, as an office chair, gaming, or just something versatile and easy to store.
Choosing the right wheeled recliner will mainly depend on the use of such a recliner.
---
Index Table: The Best Wheeled Reclining Chairs
---
Please Rate this Article:
---
---