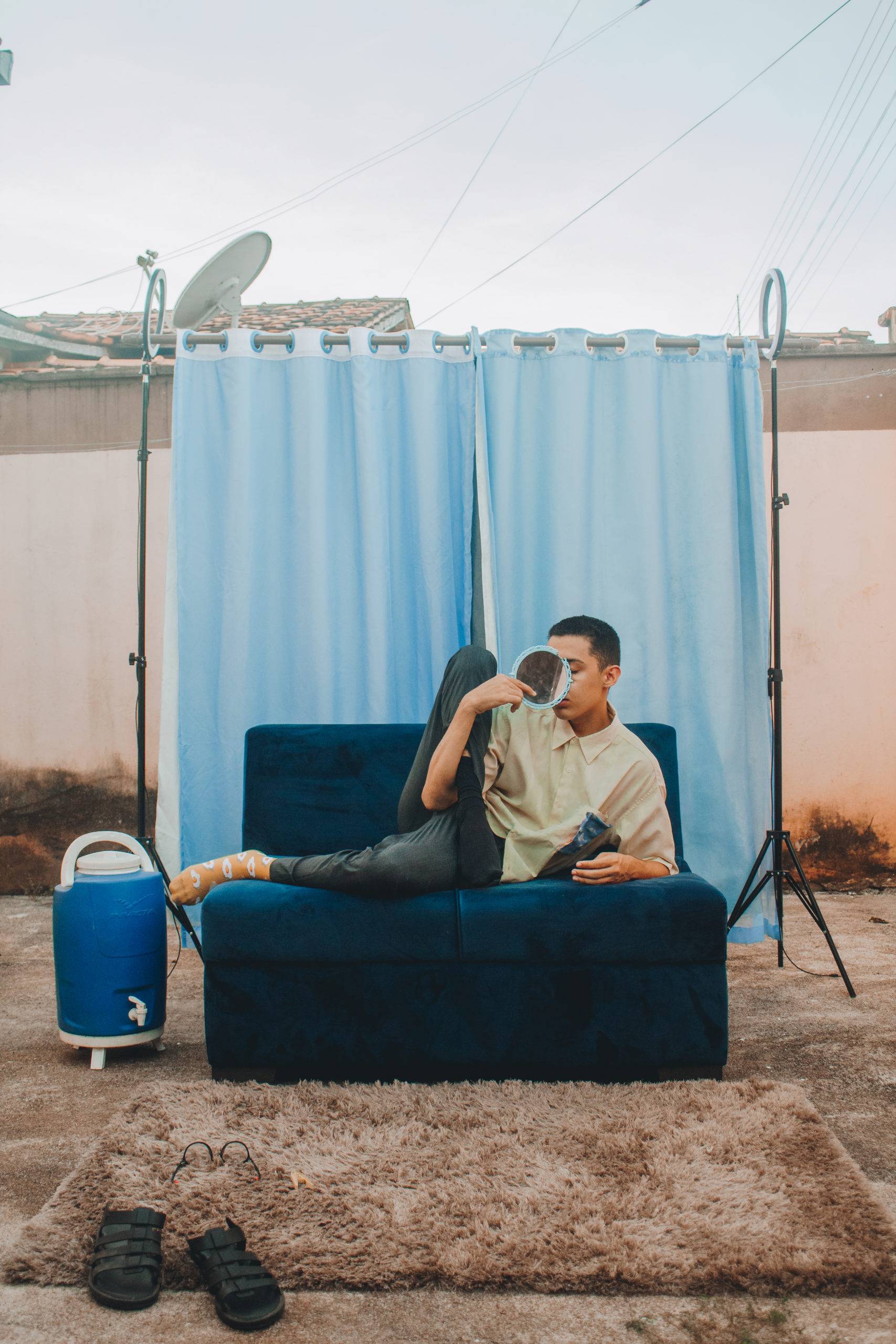 When buying new furniture, you would want functional units to enhance your home's aesthetics, regardless of the interior decoration theme. Even if the design or appearance does not matter to you, endeavor to get cozy and comfortable units that guarantee good health.
People living with other family members would want to get a couch to accommodate more people for those special movie nights in the living room. For couples, a unit that allows cuddling while enjoying a romantic evening watching their favorite TV shows would be fantastic. With the right recliner, they get to stay comfortable and relax in any desired position while in each other's company.
Double recliners are not all reclining loveseats since some of them have consoles in-between the two seats that hinder couples from curling up together. Here are the five (5) best double recliners and the unique properties that make them stand out.
The Best Double Recliners at a Glance:
IMAGE
PRODUCT

100 percent polyester chenille fabric

Button and slot connection for simultaneous reclining

Both seats can recline independently

VIEW LATEST PRICE →

Weight capacity of up to 300 pounds

LeatherSoft upholstery

Fire-retardant foam padding

VIEW LATEST PRICE →

Wall clearance of 4 inches

Insulated springs and laminated frame

Two USB ports

VIEW LATEST PRICE →

Channel tufted backrests and nailhead accents

Smooth gliding mechanism

Two cupholders

VIEW LATEST PRICE →

Plush microfiber upholstery

Sturdy metal base

Removable cushions

VIEW LATEST PRICE →
The Top 5 Picks
The Copper Grove Herentals is a double recliner with a grey chenille fabric that offers comfort while enhancing your home's interior décor. This 100 percent polyester fabric upholstery is warm yet breathable, providing insulation in cold weather without developing any odors. There is rarely any conflict of interest between users with seats that can recline independently of one another.
There are armrests on both ends that feature easy-to-reach handles which control the reclining mechanism. The backrest height and cushioning guarantee adequate lumbar support to ensure that you do not end up with lower back pain from prolonged sitting. Extending the footrest lets you place your legs in a soothing position after a long day.
With the frame's button and slot connection, you can secure both backrests together, making it possible to recline as a single unit. The sturdy steel frames and insulated spring clips allow it to bear a weight of up to 300 pounds without falling apart or producing annoying sounds. Users can also lock the recliner in their desired position to enjoy optimal comfort for as long as they want.
Pros:

Recliner lock mechanism




Weight capacity of up to 300 pounds




100 percent polyester chenille fabric




Button and slot connection for simultaneous reclining




Both seats can recline independently

One-year warranty

Cons:
It comes in 2 separate boxes that may arrive days apart.
---
The Harmony Series double recliner by Flash Furniture is another unit with contemporary styling that can fit into different interior decoration themes. Its sturdy frame and thickly padded backrest provide contoured support, giving users that cradling feel. Hence, no more worries about discomfort in the neck or lumbar region from prolonged sitting.
The LeatherSoft upholstery offers a plush, luxurious feel that is soothing. It is water-resistant and can be wiped clean using a damp cloth. Underneath the upholstery is a fire-retardant foam that enhances safety by reducing its flammability. The armrests are also well-padded for enhanced comfort and relaxation with your partner.
Assembling this double recliner is straightforward, with the necessary components delivered in the package. It can bear a maximum weight of 300 pounds and reclines with a wall clearance of 8 inches. The manual levers on each side allow users to recline to their desired positions conveniently while lounging or taking a short nap.
Pros:

Manual levers for reclining




Weight capacity of up to 300 pounds




LeatherSoft upholstery




Fire-retardant foam padding




Affordable price point

Extendable footrest

Cons:
The footrest does not have a full reclining range.
---
This Copper Grove Geel recliner is a wall-hugger model with a stitch-tufted backrest that guarantees comfort at all times. It features two seats with a console in-between that secures everything together with a button and slot connection.
There are two cupholders on the console for keeping drinks within reach while freeing up your hands. You also get two USB ports for charging portable devices without having to get off the recliner. The USB slots are located in the console's storage compartment and are accessible when the lid is open. This deep-well storage compartment is wide enough to accommodate supplies like remote controllers, smartphones, and magazines.
There are manual handles on both sides of the armrests for reclining to your desired position. The 100 percent polyester velvet upholstery has a plush feel and is not difficult to spot-clean when stained. Users enjoy contoured support without squeaking sounds when relaxing on the chair due to the high-density foam padding and insulated springs.
Pros:

It requires a wall clearance of 4 inches




Weight capacity of up to 300 pounds




Insulated springs and laminated frame for reduced noise




Two USB ports




Two cupholders
Cons:
Assembly takes quite some time.
---
The Homelegance Center Hill recliner is another double seat model featuring smooth bonded leather seats and faux leather covering other parts. Bonded leather ensures that it can withstand years of continuous use and abuse. The cleaning ease of leather makes it possible for the recliner to maintain its original appearance after several years.
It features a gliding mechanism that is usable when not reclining. With manual levers within reach, you can recline to your favorite position conveniently without assistance. The console in the middle features a deep-well storage compartment and two cupholders, allowing you and your partner to free both hands while lounging.
With channel-tufted backrests and nailhead accents on the edges, you can give your living room that modern traditional look. The thick padding relieves pressure points while the sturdy frames provide the desired level of lumbar support to prevent pain from prolonged sitting.
Pros:

Channel tufted backrests and nailhead accents




Smooth gliding mechanism




Console with storage compartment




Bonded leather seats
Cons:
---
The Serenity Classic recliner is another solid loveseat model with removable cushions that make for easy repositioning. It features a sturdy metal base for enhanced stability while in use, ensuring that it does not tip over. The plush microfiber upholstery feels smooth on the skin, giving users a luxury feeling.
With thickly padded armrests, couples can rest comfortably or curl up together as they please. The lumbar support backrest is designed to help users maintain correct spinal alignment and alleviate back pain. Users do not have to worry about damage, as the frame is sturdy and durable and would not fall apart under their weight.
Assembly is straightforward and can be completed within minutes. The footrests are extendable independently, allowing you to enjoy your desired position without inconveniencing your partner. Maintaining hygiene is easy as spot cleaning with a mild detergent helps remove stains from spills.
Pros:

Manual reclining lever




Easy assembly




Independently extendable footrests




Plush microfiber upholstery

Sturdy metal base

Removable cushions
Cons:
Key Considerations When Choosing Double Recliner Chairs
Material: While purchasing a double recliner chair, try not to overlook the materials used. The frames and upholstery are essential and can determine the longevity of the product. With constant use, the unit may collapse if it features inferior materials. It would be best if you got one that can withstand the stress from sudden movement while on it.
Leather upholstery may feel cold during winter, and homeowners would require extra insulation to keep warm. Typical fabric materials feel warmer, with moisture-wicking properties, but may not be desirable in a sweltering climate. Once the upholstery soaks up sweat, it may develop a foul odor. Users may need to get recliner covers to keep the chair's fabric in its original form for a long time.
The reclining mechanism is another factor as there are models with a push-back system or a manual recline lever. You can also find models with electric motors that control the reclining system. The electric models feature remote controllers for the convenient operation of the reclining mechanism. Users only worry about malfunctioning parts, so some go for the manual alternatives.
Support: The backrest, seat, and footrest are essential parts of the recliner that determine the level of support the unit can provide. You may find a model that comes with lumbar pillows that provide adequate cushioning for your back. Some have designs to ensure that your neck is fully supported, regardless of your height.
A recliner with high-quality padding that does not sag would be great at relieving pressure in your joints and ensuring that you do not experience that dreaded sink-in feeling. The cushioning should neither be too soft nor hard but have the right firmness level. Whether rubber or metal springs, the suspension used will also determine the degree of support that the chair provides.
Maintenance and Safety: Breathability of the upholstery keeps the furniture fresh, preventing foul odors from developing due to trapped heat and moisture. You would not want to be back in the market looking for a replacement after only a few months. Scratch marks may become permanent in leather but non-existent in standard fabric upholstery. But those seeking models that are easier to clean would prefer the leather options.
Most manufacturers consider the safety of customers, which is why electric components are correctly insulated. Most brands use fire-retardant materials to make their products less flammable and eco-friendly.
Additional Features: Researchers from the department of furniture design, Poznan University of Life Sciences, Poland, suggest that a high level of competition leads to innovation. Their observation explains why we see a couple of extra features that make each recliner brand stand out.
A couple of double recliners come with consoles in the middle that feature storage compartments with USB ports for charging portable devices. You can also find cupholders for keeping drinks as you cozy up with your partner for that telenovela or new blockbuster movie. Users have to decide whether they want the loveseat models without the obstacle (console) between them, and give up features like the console and all that comes with it.
The loveseat models often have side pockets for storing remote controllers, snacks, and other valuables. You do not lose anything with that choice as the side pockets can hold drinks in corked containers. Users can also find models with gliding mechanisms for enhanced relaxation.
Size: Dimensions are critical when you are looking to get new furniture, as it determines, to an extent, how comfortable you would be while using it. The loveseat models seem smaller due to the absence of the middle console. But the available space in your apartment will determine how well the recliner fits. You may not want to throw out multiple furniture just for space to bring in the double recliner.
Another critical factor is the seat's depth, as it can also affect your comfort when it is too short or long. You would not want to feel like you are perching or sinking into oblivion, especially when you intend to relax for a long time. Size also affects the possibility of moving the recliner through doors into other rooms in your home.
Price Point: You should be willing to spend a little extra bucks if you plan to enjoy those romantic movie nights with your partner. Spending that time together at home in a comfortable double recliner will afford you more privacy and convenience as you curl up together. Making a budget ensures that you get one that is affordable and ticks all the right boxes.
What is the best month to buy a recliner?
Most people want to buy furniture with trending styles to compliment the interior décor in their homes. While creating a suitable living space for your lifestyle, you need to know when new designs become available. If they are expensive, you can seek out discounts or other promotional offers from your favorite retailer.
According to an article on ABC13, experts believe that retailers sell at massive discounts in a bid to clear out their stock to create room for new furniture coming in the fall. This theory makes July the ideal month to go shopping for a fresh piece, whether it is a recliner or traditional sofas.
Final Thoughts
The double recliner is stylish and the right choice for people that want to save space with one comfort furniture rather than two individual alternatives. Although some models come with a warranty that proves its quality, getting the right double recliner improves your quality of life and the other user's.
---
Please Rate this Article:
---
---