We are not all in the elite category, that can afford regular visits to the spa, to relax and unwind. Daily stress from work, either from being on your feet all day or sitting behind a desk, as well as incorrect posture can cause many health issues.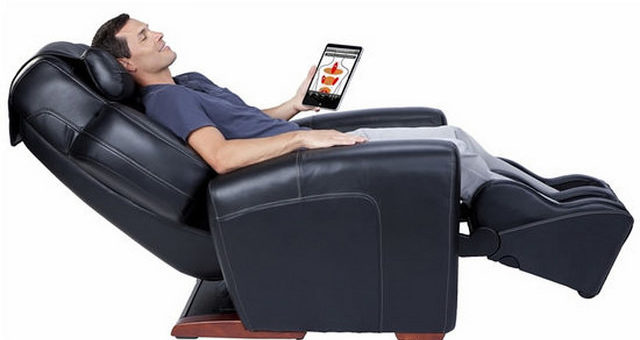 A therapeutic recliner is an answer to daily tension, aches pains, and many ailments, including circulation and posture issues. For us individuals, who are not able to make a daily visit to the local health spa, a well deserving, massaging therapeutic recliner can provide the much-needed relief.

---
Health Advantages of a Therapeutic Recliner
The health and wellbeing benefits of a therapeutic recliner are endless, and you can look forward to the ultimate in relaxation and comfort.
Here are just a few of the fabulous advantages you can expect;
Increased Blood circulation.

A better posture which in turn enables better breathing and spine alignment.

Prevents ailments caused by pressure and immobility.

Muscle relaxation and deep tissue penetration.

Increased flexibility.

Relief from back, neck and shoulder pain.

Intensified Lymphatic Circulation.

Faster healing of wounds and injuries.

Improved recovery with conditions such as cellulitis, venous ulcers, and infection in the lower limbs.

Better blood flow to decrease swelling and musculoskeletal pain.

If you are immobile, injured, and elderly or have difficulty getting up, a lift chair can aid you.

Soothing relaxation in a plush, soft and comfortable chair with vibration, heat or massage therapy to melt away stress and tension.

Excellent choice for the elderly to relieve aches and pains and improve their overall well-being.

---
Some Features Found in a Therapeutic Recliner
A therapeutic recliner has the main function to provide relief and overall well-being by offering soothing and relaxing functions to heal and soothe your body;
Massaging functions in the form of vibration, shiatsu massage or roller massage that targets all areas of the body.

A zero gravity function to relieve pressure and improve circulation.

Comfortable foot and calve rollers.

Adjustable and comfortable reclining positions that are easy to operate.

Full body support and comfort for your specific body type, size, and weight.

Smooth and easy reclining and release of the footrest.

Adjustable height function in some models.

Plush, soft and comfortable upholstery and padding.

Easy to clean and maintain.

A durable and stable state of the art frame.

Heating therapy feature.

Remote control or LCD console that is easy to use.

Storage for accessories and a cup holder.

Easy lifting capabilities.

Different position levels.

---

We have compiled a list of some of the best Therapeutic recliners that you can find today;
The Best Available Therapeutic Recliners
1
There is just no comparison to the OSAKI OS-4000 when it comes to the best therapeutic Recliners.
This is a top of the range recliner with all the features that you can imagine at the touch of an LCD screen.
Truly the best available therapeutic recliner!
The two heating pads situated on each side of the lumbar area provide lower back heat therapy.

The remote is a full-sized LCD console that is very easy to operate and wireless.

Includes different massage modes such as kneading, tapping, shiatsu, rolling, combination, and Swedish massage.

Adjustable speed, intensity, and location of your several massage modes.

An adjustable calf and foot massager to cater to the needs of every individual. The perfect position for massage and to align your back and thighs at an optimal level.

An ergonomic design that offers contoured support to different body shapes.

Airbag massage function.

Additional foot and calf massage, hip, and lumbar squeeze, as well as a shoulder airbag massage.

---
2
A chair that is endorsed by the World Federation of Chiropractics, the Human Touch iJoy says it all when it comes to therapeutic wellness and relaxation.
Also a winner of many Design Journal awards for design Excellence, for its ergonomic design, high functionality, and fashionable style.
Features 3 revitalizing auto-massage programs for back, neck, and shoulders.

A 180 degree recline for ultimate relaxation.

An easy to use one-touch program built-in remote control.

Space saving features.

A built-in power outlet for charging your phone, tablet, or laptop.

A removable massaging softening pad to control the intensity.

You can enjoy your favorite drink with the supplementary cup holder.

---
3
The DuraLux from perfect Sleep Chair welcomes you to the highest level of comfort and relaxation.
This is the absolute perfect chair for sleeping in that aids in relieving heartburn, cardiac issues, hip or backaches, and many other sleep disturbing health issues.
The overstuffed design with pocketed coils, wide seat and armrests ensure the most comfortable position for sitting or sleeping in.

Lift chair features if you struggle to get up or have mobility issues.

High and low heating settings for the seat and back.

Zero gravity position capabilities alongside with recline positions.

Comes with a best in class warranty.

---
4
For individuals low on space, the Kahuna Massage chair has space saving technology, as well as an ergonomic structural design to fit any body type.
This chair will look great, take up little space and guarantee superior therapeutic comfort and relaxation.
Full body is massaging competences.

Three stages of Zero Gravity positioning.

Only needs three inches from the wall to recline fully.

An L-Track frame structure specially designed with four rollers and an air cell massage system, to thoroughly massage shoulders, arms, waist, and hips.

A roller trail design to support and massage from your neck to your buttocks, and to decompress your spine.

A computer body scan program.

Improved advanced air cell massage technology.

Five manual massage techniques and six auto programs.

Lower back and leg heating therapy.

You can adjust the roller speed and air cell massage levels with three variants.

---
5
Another excellent design from human touch, the perfect chair. No list is complete without the "Perfect Chair", and this one most definitely makes the cut.
An ergonomic design with lumbar support, zero gravity positions in a style and size that will fit perfectly in your home or office.
You can independently adjust the leg and back positions.

The zero gravity seating and Omni-motion classic, allows you to station the recliner, and leg elevation positions individually.

Independent Leg and Back Adjustability: A revolution in zero-gravity seating, the Omni-motion classic gives you the dual-motor power to position the recliner angle and leg elevation independently.

The five-way controller permits you to regulate your positions easily.

A sleek ergonomic design with soft padding, covered in SofHyde top grain leather or premium leather upholstery from head to toe.

Supportive headrest with a head pillow.

Extended comfortable armrests.

Smooth motion high quality, durable frame.

The solid wood base that is hand carved.

You can choose your upholstery material, memory foam, and base finishes.

In case of an electrical short, you have a backup battery that will restore the chair to its upright position

---
The Ultimate in Relaxation
The best therapeutic relaxation can be enjoyed in a variety of p[ositions, the level of comfort is your personal choice.
A therapeutic recliner will provide much needed relief from many ailments and relieve daily stress and tension.
The recliners we have chosen all have the features to provide the best therapy and relaxation to soothe and relax pain and tension while improving your overall health
---
Index Table: The Top Therapeutic Recliners
---
Please Rate this Article:
---
---