If you are looking for an accent chair to complement your lounge, then why not opt for a stylish club chair recliner?
Scroll down for best club chair recliner deals, buying precautions and best features, as well as a brief look at the origins of the club chair.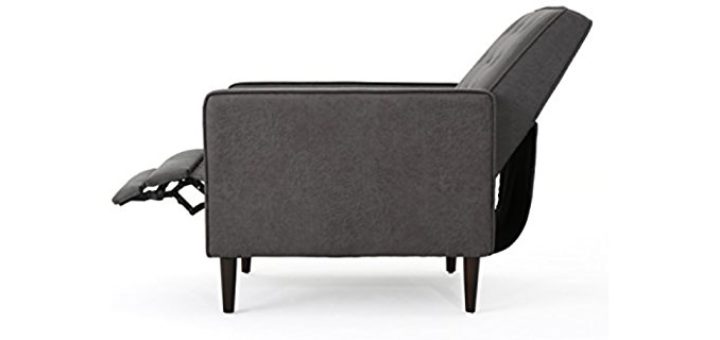 ---
The Origins of the Club Chair
Like the majority of tasteful accent chairs, the club chair is believed to have originated in France. The original name for the club chair was apparently 'fauteuil confortable' which means 'comfortable armchair.' Unlike the other armchairs being made at that time, the club chair was one that you could sit back and fall into comfortably.
The first designer of the club chair is not known, but it is clear that the club chair was created as a part of the Art Deco design movement in the early 1900s. Much like the designer, it is unclear why the club chair is called a club chair, but historians suspect it has to do with the ever popular gentleman's club at the time.
The signature style of the club chair is denoted by a low seat, high arm rests, comfortable posturing and predominantly clean flexible lines. These were among the first classic French decor items that were not covered in intricate ornate patterns and upholstered in plain monotone fabrics (traditionally leather).
---
Club Chair Recliner Buying Precautions
Reclining club chairs can make an elegant addition to anyone's living interior, but there are a few points one should consider before purchase.
Foot Rest Length – Since club chair recliners have a very low seat compared to other recliners, the foot rest does not extend out very far. This can be solved with the inclusion of an ottoman with your purchase if putting your feet up is essential to you. Otherwise, a recliner club chair will allow you to comfortably lean back at an enjoyable angle as well as provide you with aesthetically pleasing comfort in your home.
Sizing – Club chairs are usually smaller than most contemporary armchairs. If you are a large person, then a club chair recliner is likely not for you.
Frame – One of the signature features of a club chair is that it rests on four solid wood legs which are sometimes blocks or carved to be ornate. It's important to make sure that this framework of the club chair is made from strong hardwood, such as oak or pine. If made from a cheap alternative like plywood, the chair may fall apart quickly.
---
Features of a Good Club Chair Recliners
The below features highlight the very best of recliner club chairs so that you know what to expect when shopping for one.
Petite – Club chairs are ideal for petite or small individuals, providing the best support for petite body shapes. Unlike an oversized recliner, club chairs will not cause back problems at a later stage for smaller body types.
Space Saving – If you live in an apartment or house that is pressed for space, then a club chair is for you. These space-saving chairs can allow you to provide a comfortable place for your guests to sit and be entertained.
Aesthetics – True to the French spirit, club chairs look really good and tend to increase the aesthetics of any living room interior. Up your decor game and get yourself several recliner club chairs!
Ergonomic – With their straight lines and rounded edges, club chairs are highly ergonomic. Lean back and allow the chair to keep your back straight so you can just relax.
Full Recline – Many club chair recliners don't recline all the way back, which may be desirable depending on if you want to save space or not. The ones that do, however, are great for taking naps in!
---
Reviews: The Best Club Chair Recliners
Our premium selection of club chair recliners below is bound to have you revamping your lounge suit at the push of a button!
---
1
Allow yourself to sink back into this petite plush club chair recliner, complete with thick padding and a stable base.

The hardwood frame will last you several years at the very least, making your living room look great for that time.

Available in a wide selection of 13 colors to choose from, these club chairs are capable of bringing life to any interior.

The recliner is a pushback which can be adjusted to multiple different positions for optimal comfort.

The ergonomic design allows for maximum support and comfort, keeping your spine in perfect posture.

The recliner can recline all the way back, allowing you to nap at your leisure.

---
2
Here is a set of two club chair recliners at a bargain price, designed to up the class of your home!

Upholstered in a suede microfiber leatherette, the recliners are ideal for matching slate or granite interiors.

The seat and back rests are extra padded, allowing one to sink right in after a long day at work.

The tufted back rest gives these a retro modern appeal, bringing one right back to a mason aesthetic.

The frame is made of durable birch wood, which ages very well if looked after.

---
3
This recliner club chair is made from a blend of hard wood, steel and fabric to give you a highly durable designer chair.

Indulge in the height of comfort and recline back all the way in this club chair, allowing yourself to relax entirely.

The neutral color of the recliner is sure to compliment any decor you have in your home or office.

Sturdy construction and ergonomic design ensure that you will be able to enjoy this recliner's features for years to come.

Save space in your home while still being able to appreciate the comfort and luxury of a premium recliner chair.

---
4
This trendy little number is not only good looking but also just as comfortable to sit in.

With its curved arms and plush foam padding, this modern spin on the traditional club chair will have you never wanting to rise from your seat ever again!

The steel mechanism and hardwood frame ensure that the recliner will last for a substantial time.

Unlike many other club chair recliners, this club chair is overly stuffed with foam padding which will create a unique contour of your body shape.

Upgrade the look and feel of your interior with this brightly colored recliner.

Also available in black or camel colors.

---
5
If you are looking for both a traditional recliner chair and a club chair, look no further!

This recliner is designed with the clean lines of a club chair and the dimensions of an ordinary modern recliner, making it suitable for larger individuals.

Lean back on the plush cushioning and take full advantage of the lumbar support and neck padding this club chair offers.

Upholstered in water-resistant PU leather, this recliner chair is easy to keep clean and maintain in perfect condition.

Get the look of a modern club chair without breaking the bank with this cost-effective recliner.

---
6
This is a stunning Old School fashion leather reclining club chair from Hooker Furniture.
Upholstered in durable genuine leather with a classic club chair style.

Filled with foam and polyester for incredible comfort.

Small and space-saving design.

Smooth and easy reclining system.

---
7
The BarcaLounger Charleston boasts classic Club Chair fashion and appeal in rich Burgandy leather.
Upholstered in the finest quality top grain Burgandy Leather.

A push back recline mechanism and retractable footrest.

Wingback style and a durable plywood and pine frame.

Soft and plush foam cushioning and padding.

---
8
A gorgeous nailhead trim decorated, wingback vintage style Club chair that is both appealing and comfortable.
Upholstered in smooth and classy bonded leather with nailhead trimmings, button detail in the backrest, and rolled arms.

A tufted and wingback vintage club chair design.

Thick cushioning and firm padding.

Uniquely carved wooden legs and brass studs along the edges.

---
Comparison Table: Top Rated Club Chair Recliners
---
Please Rate this Article:
---
---