The High back recliner offers the perfect combination of an attractive form or appeal and functionality as a supportive backrest, particularly for taller individuals.
---
High Back Recliner Types
As with any other Recliner, your High Back recliner likewise comes in different shapes, sizes, styles and functional options;
Traditional Two Position Recliner

Your main Manual recliner type offers two positions,Upright, and Recline.
Two position recliners are quite budget-friendly, although they are limited in color, fabric and design options. This type of recliner will equally be available in a Taller back option.
Rocker Recliners
Rocker recliners are available in a color, fabric and style option, with the additional feature of being able to Rock.
Push Back Recliners
This recliner simply reclines when you push back into your seat, and does not require a lever or pull the lever to recline.
Powered Recliner

The Power recliner uses electricity to operate and function. This type of Recliner can have many features, such as lifting function, lighting, vibrating and massaging options.
---
Benefits of a High Back Recliner
Sitting in any chair, whether it's your office chair or Recliner at home, does have an effect on your back.
With the proper support of a backrest that is the correct length and shape, you will receive proper support for your back;
A Tall Back is an excellent option for taller individuals who need additional support.

Your entire body and legs will be supported in a sleeping position on a high back recliner.

A High back recliner offers an elegant and sophisticated appeal to your home.

The High Back recliner ensures good posture and back support at all times.

---
High Back Recliner Features
Durable, easy to clean and comfortable upholstery.

A High back with ample support.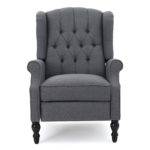 Has a Padded arm and backrest.
Comfortably cushioned seat.

Easy recline manually or powered.

Features such as side storage pockets and a retractable footrest.

Powered features such as massage, heating, and lighting.

Powerlift or Manual options.

Sturdy and durable frame from wood or steel.

Neat and quality finishings that are aesthetically pleasing.

---
Reviews: Best High Back Reclining Chairs
1
A Full House in High Back power recliners. The Magic Union recliner comes fully equipped with a heating, massaging and Lifting Function, as well as ,strong> Cup Holder, Side Pocket and two remote control features.
Made with a durable and sturdy solid wood frame, and upholstered in high quality PU leather.

Functions include; Power Lifting, Back and Footrest recline, Massaging, and Heating.

Other features include; Cup Holders, Storage Pockets and remote controls for all functions.

The Massage feature has 4 focus areas, the back, lumbar, leg and thigh areas, with 5 modes (pulse, wave, auto and normal), of massage vibration.

Two remote controls control all the functions, and smooth lifting of this powered recliner.

The recline function and leg rest work together and are likewise powered by remote.

There is a specialized heating function for the lumbar area.

---
2
A Soft and comfy Power Lift Recliner, from one of the leading brands, Giantex. This is the perfect chair for individuals who struggle with mobility, for the elderly, and those who are recovering from an injury or surgery.
Upholstered in soft and luxurious high-quality fabric, and filled with high-density, resilient sponge, that is completely odor free and supportive.

The high quality Steel Frame, guarantees many years of long-lasting durability with a maximum weight capacity of 330 lbs.

There are Pockets on the right side of the recliner for convenient storage close by.

Electrically powered with a remote control and full Lifting Function.

Quiet and easy to operate with a smooth reclining system.

---
3
Plush and comfortable, with availability in three shades of brown for a neutral and warm color option variety. The Ashleigh Furniture Manual recliner has a High back and wide design for extra comfort and relaxation.
Thick cushioning for luxurious comfort, with a soft Low Metl Fabric upholstery available in three shades of rich brown to choose from.

The frame is constructed with glued corners, that are also blocked and stapled for durability.

High-Quality foam filling, for a soft and comfortable feel.

A sturdy and durable frame.

Generous large and wide size with a high back for taller individuals.

Easily assembled and came with full instructions.

---
4
The Jummico is a Modern Contemporary styled, sleek and elegant looking manual recliner, with fabric upholstery available in a Grey, Light Blue and White, color option.
This is an adjustable Home theatre seat recliner with a tall backrest, perfect for the modern living room.
A home theatre seat with a taller backrest, and lavishly cushioned seat, back, and armrests for full relaxation and comfort.

Covered with high quality, lightweight and breathable fabric, for better comfort and durability.

The footrest is freely and separately adjustable, for further convenience and comfort.

Built with a highly durable and sturdy steel frame, that will last very long.

---
5
For use in the office, for Gaming, or even just for comfort in a small space, the Hbada ergonomic Recline Chair offers adjustable height and complete lumbar support.
An ergonomic design that tilts and reclines, increasing the angle between your thighs and torso for a more comfortable position, which aids in providing the besr posture and spinal alignment.

The Breathable mesh back, promotes better ventilation to keep you cool and comfortable.

Adjustable seat height and headrest as well as rotation wheels, for free and easy movement.

Features a very stable and durable steel frame and silenced wheeled base.

---
6
You can easily surpass into peaceful relaxation and comfortable space with this luxury muscle soothing, massage recliner from Harper & bright designs.
Features heating, recline and Massage Functions that are electrically powered.

There are eight powerful vibration massage motors with four custom settings and three intensity levels, as well as five different massage modes to choose from.

You can also look forward to soothing lumbar heating, that aids in relieving pain and relaxing stressed muscles.

An extending footrest and recline feature controlled by remote.

Strong and durable construction, with high-quality leather upholstery, and soft cushioning for comfort.

---
Index Table: Top Rated High Back Reclining Chairs
---
Please Rate this Article:
---
---