Whether you're looking for a modern recliner to spruce up your home, your workplace or a guest house, you've landed on the right page! Read further for more information on different types of modern recliners, interior design tips and a brief look at some of the best contemporary recliner features.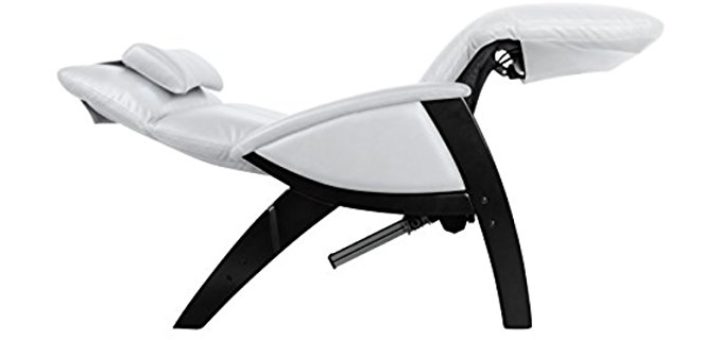 ---
Different Kinds of Modern Recliner Chairs
Modern recliner chairs have different functions, which tell you what type of recliner it is.
Swivel Recliner – A swivel recliner can rotate 360 degrees in a room. This is very useful for an office chair or a flexible setup. If you like to arrange the room for house parties or simply just to shake things up a little bit, a swivel recliner is the way to go.
Power Recliner – Power recliners are electronic and allow you to lift the foot-rest without adjusting the head-rest simultaneously. The benefits of this are that you can adjust the recliner into just about any position you like at the touch of a button!
Rocker Recliner – Rocker recliners rock back and forth, as the name suggests. Unlike a glider recliner, a rocker recliner relies on the traditional arch rocking motion to soothe your nerves after a long day.
Glider Recliner – Gliders are very similar to rockers, but instead of rocking in an arch, they rock back and forth in a straight line. Gliders are often preferred by nursing moms, as they can gently calm, burp or feed their babies while putting their feet up.
Massage Recliner – A massage recliner allows you to sit back and enjoy a soothing massage while reclined. The most affordable massage recliners make the use of a simple vibration massage. The most sophisticated massage recliners use pneumatics, rollers, kneading and other massage techniques to release the pressure in your back and body.
---
Tips for Using a Modern Recliner in Interior Design
Modern recliners keep up with modern trends. To make the most of your modern recliner, these interior design tips ought to shed some light on how to best make use of them in your living space.
Coherent Art Deco Style Patterns – Looking through modern recliners, you have no doubt come across many that have beautiful patterns on them. These fabric recliners make wonderful accents and add to room decor. To avoid being over the top, however, you do not want more than two of these kinds of modern recliners in a room at a time. Try to use pillows on these recliners that are only one plain matching color, as too many patterns in a room make it look chaotic. If you have a sofa next to a patterned recliner, it looks best to have the sofa as one color without patterns, but with matching patterned cushions – matching the patterned recliner's pillows to the color of the furniture likewise will look great.
One or Two Colors – Stick to one or two colors only. This is the easiest to contain, and it looks the best. As many great designers say 'less is more'!
Light Palettes – For a true modern look, your color palette should stick to light refreshing colors. These kinds of colors also tend to add a feeling of space and purity to a room. Whites, creams, baby blues, turquoise, and mint are all great examples of a modern palette. Sometimes an accent of gold, silver or bronze looks great too. Darker colors tend to have a more vintage effect or can even make a room look depressing if used in large quantities.
---
Best Modern Recliner Features
If you're wondering what the best modern recliner features are, then you'll love this list of characteristics we've compiled below!
Inner Springs – Recliner padding is typically made of high density foam and softer foams to even it out. The most comfortable recliners are made with added inner springs, each of which is individually pocketed for silence, comfort and durability. Indulge in a recliner chair that has the feel of falling back into a mattress!
Removable Upholstery – Particularly if your recliner is made from fabric, removable covers are essential. This makes the recliners easy to keep clean and allows them to remain in mint condition.
Ergonomic Shape – An ergonomic shape means that the recliner has been specially designed for optimized back support. Having a good posture in your recliner will ensure that you always feel comfortable and that you never need to worry about future back problems.
Zero Gravity – At the push of a button, a zero gravity recliner allows you to recline all the way back into zero gravity position. In this position, your knees rest comfortably stretched out slightly above your head, and the force of gravity is reduced to zero. That means that all the usual pressure gravity exerts on your body is gone, alleviating a lot of muscle tension!
---
Reviews: The Top Selected Modern Recliners
Have a look at our best modern recliner reviews list and click your favorite!
---
1
This modern recliner is ideal for a nursery or any modern home bedroom setup.

It is ideal for a small or petite person, sitting low with clean, modern lines and a simple push-back recliner mechanism.

The padding is incredibly comfortable, made from inner springs that sit silently inside high-density foam pillows.

The gliding mechanism is quiet, making it convenient for nursing moms or those who enjoy rocking back and forth in front of the television.

The upholstery is removable, easy to clean and comes in a beautifully intricate Moroccan-style pattern to liven up your home.

---
2
This recliner can swivel, allowing you to change up the room as often as you like without much of a hassle.

Built on a sturdy steel base and constructed from soft, tufted upholstery, the recliner will keep you happy for many years to come.

The padding is made of cushioning high-density foam and provides excellent ribbed lumbar and back support.

A simple pullout lever mechanism allows you to recline back to any of your preferred positions easily.

The recliner can go all the way back, doubling as a guest bed.

It also silently glides back and forth, providing comfort to nursing moms, children and all those who love rocking chairs.

---
3
If you are looking for a sophisticated modern looking recliner chair, look no further!

This Recliner chair is the ultimate office lounger combined into one unique product.

The ergonomic design will leave you feeling as though you are resting on a cloud of supreme comfort and support.

The head and back-rests are fully adjustable, giving you the option of reclining into any position you desire.

The base is sturdy and swivels 360 degrees in a full circle, making this chair ideal for both office or home use.

Upholstered in top quality full grain leather, this recliner will last you longer than your lifetime!

---
4
Cozzia's 'one touch' zero gravity recliner chair remains to be one of the top recliners on this site, once again topping the charts in the modern recliner category.

The solid beechwood base and the smooth bonded leather make it perfect for either home or office use, as it will last a long time without wear and tear.

The headrest and leg rest are independently adjustable, obeying your every command at the touch of a button.

Recline back into zero gravity position and experience all tension melt away from your back and body.

As if that wasn't enough to make this recliner desirable, it comes inclusive with a heated vibrational massage, accessible to you in any position you like!

---
5
This beautiful taupe leather recliner with ottoman will work perfectly in any Euro modern setup.

Made of a sturdy birch hardwood base and covered in waterproof bonded leather, the recliner is bound to last a long time.

The swivel base allows you to recline to any position you like, so sit back, enjoy the view or rotate back to your desk to do some work.

Designed with ergonomic principles, the ribbed backrest padding will keep you comfortable and hold your shape with optimal support.

This modern recliner can support anyone up to 250 lbs.

---
Comparison Table: The Best Modern Recliners
---
---