When you want to combine comfort, functionality, and elegance in a room purely for entertainment purposes, then the home theatre recline seat or seating system is your answer.
A home theatre recliner features many additional characteristics that are similar to that of a movie theatre, to give you that theatre experience in the comfort of your own home.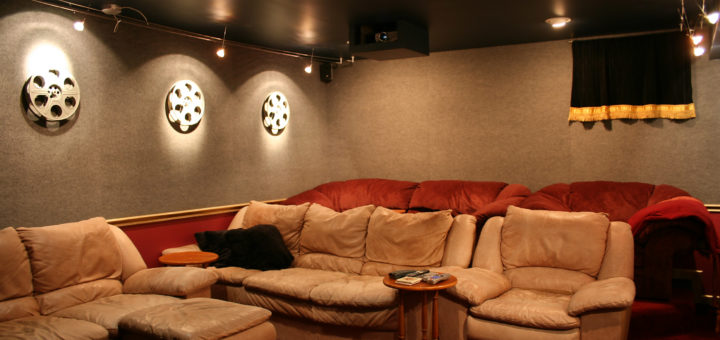 ---
Choosing the Best Home Theatre Recliner
Now that you have finally made the choice to enhance your home with better viewing and relaxation experience, with either the addition of one or more theatre recliner seats, here are a few dynamics to consider;
Upholstery – The upholstery of your home theatre recliner is important, you are going to be using this seat frequently, as well as eating and drinking on it, so spills are a given. Choose a fabric that is easy to clean and maintain, breathable and that is stain resistant. Likewise, I would strongly recommend a good PU leather, which you only need to wipe clean with a damp cloth, although this option might be a bit cold in the winter time.

Padding – Good comfortable padding and support is a must, you are going to be spending many hours in this chair, so you want something comfortable and that will not cause a backache from lack of support. Similarly, a padded footrest and armrest is a must for any home theatre recliner.

Recline and Footrest – Two most important aspects of functionality I would say is the recline function and a retractable footrest. Choose something that can recline to a few positions and a footrest that is adjustable.

Manual or Power – Most theatre recliners are power operated as they have specific features that require power, such as a USB charger port, massaging and heating functions. However a manually operated recliner can be just as effective, and much more mobile and budget friendly.

Home Theatre Features – Imagine you are in a movie theatre, you have a cold drink in your cup holder, popcorn in hand, and you are leaning back in a comfortable seat, with the best view in the house. Now, for your home theatre you want a similar experience and so much more. Look for features such as an armrest tray, storage in the armrest or sides, cup holders, iPad, phone or USB docking ports, LED lighting. Mostly I would recommend a cup holder for a basic start as an additional feature.

Budget and Space – Lastly, we look at your limiting factors. The space you have available, taking into consideration the size of the recliner when in full recline with the footrest out. And the much-dreaded budget part!
---
Features of a Good Home Theatre Recliner
Comfortable and easy to maintain upholstery in fabric or leather that is stain resistant and breathable.

Comfortable and plush padding in the seat, backrest, and armrests.

Features such as a tray and cup holders.

Storage space at the sides or in the armrests.

A sturdy frame that can hold adequate weight capacity.

A tough and durable build and construction for long-lasting comfort.

High quality mechanical or electrical working components that are easy to operate.

The right size for the space you have available.

Multiple recline positions and an adjustable footrest.

---
Reviews: The Best Home Theatre Recliners
Here are some of the most comfortable and highly convenient home theatre recliners that you will find.
1
Soges is a popular US local brand in furniture. I have chosen the Luxurious Home Theatre recliner from them because of its excellent comfort features as well as remarkable durability.

A push back manual recliner upholstered with plush PU suede leather that is soft and sturdy.

Extra padded back and arm cushions and a comfy seat.

The frame is manufactured from quality solid wood and metal for durability.

Can recline up to 160 degrees.

Comes equipped with a cup holder, tray and two storage bags.

---
2
What could be more comfortable than a memory foam recliner, well a theatre recliner of course. Fully equipped with all the odds and ends required for that movie theatre experienced topped off with the luxury of memory foam seats.
A space-saving design that will help you save on space in any room.

High-density memory foam padding for lush comfort.

A uniquely powered accessory dock that accommodates a range of accessories, which includes a tray table, USB port, LED Flex light, wine glass holder, tablet and IPad holder.

Hardwood frame for tough long lasting durability.

Luxe premium leather upholstery that is easy to maintain, super soft and durable, as well as colorfast.

---
3
The Esright Massage recliner is the ultimate in home theatre relaxation. Fully furnished with a Cup holder, side pockets and swivel function.
Heating, massaging and vibrating functions for the ultimate in comfort and relaxation.

Soft and durable PU leather upholstery for intensive use.

Thickly padded with a cushioned backrest and armrests.

There are two cup holders and four storage bags.

This chair can swivel 360 degrees and recline to 150 degrees.

Comes fully supplied with a remote control, power cord, five modes and two intensity levels to choose from.

---
4
The Pulaski Home décor Power Home theatre recliner is a must for every Home. This powerhouse comes ready for action!
Features two USB changing plugs, hidden armrest storage, and charging function, ready for use at the push of a button.

You can recline into infinite positions with the touch of a button.

The swivel tray is ideal and can be stored in the armrest when not in use.

Covered in premium faux leather that is soft breathable and very durable, as well as easy to keep clean.

---
5
The Seatcraft Anthem is ideal to function as a home theatre seat and is comfortable as well as highly innovative with all its exceptional and handy features.
Comes as two sofa recliners with armrest endcaps.

Built with a very sturdy steel frame for the maximum weight capacity of 480lbs.

A reinforced spring structure in the seat prevents sagging and improves seat resilience.

The rich chocolate brown color of the upholstery will blend in magically with any home décor.

Modular design with functional cup holder between the armrests.

Constructed from PU leather that is extremely easy to maintain and requires no waxing or oils.

---
6
The FDW reclining sofa is a three seating theatre recliner for the whole family.
Wall Hugging design that takes up very little space when fully reclined.

A full manual reclining system that is smooth and easy to operate.

Three seat theatre seating

Sturdy and durable design with a solid wood frame and high-density sponge filling.

Smooth and comfortable upholstery.

---
7
ICC Furniture presents its full theatre recline seat with three seats and pushback recline function.
A Push Back recliner function with Adjustable footrest, wider armrests and a larger seat cushion for comfort.

The curved back and thicker cushioning in the back ensures ample supp[ort and lumbar comfort.

Durable and comfortably soft upholstery as well as a sturdy frame.

The Non-marking rubber feet are additional and will protect your floors.

---
8
The Loveseat design of the RecPro Charles makes it the ideal theatre seat, with the addition of a Zero wall design to save space.
Enjoy a theatre experience in your apartment, small home or even an RV with this compact recliner.

Durable and easy to clean PU leather.

Sturdy frame and theatre seat design.

Space saving with its Zero wall design.

---
As you can see these comfortable home theatre seating options are all highly efficient and comes fully prepared with everything that you may need for the definitive in home theatre entertainment experience.
---
Index Table: Top-Rated Home Theatre Recliners
---
Please Rate this Article:
---
---