Manual recliners, unlike power recliners, have a mechanism allowing them to be positioned into recline by means of a lever or wheel, which uses your body weight recline back into the chair.
These chairs are more compact and easy to move around, there is no fuss with electrical cables, and they tend to be a much cheaper option.
---
Choosing a Manual Recliner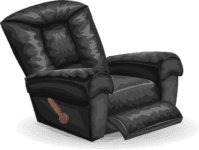 Today you can find recliners in a huge variety of shapes, sizes, colors, models and brands, each with their own unique features.
It helps to have some knowledge of recliners as making a choice may seem overwhelming at first. Once you get the hand of what each type of sofa can do and be used for, it is all plain sailing from there on. One of your greatest choices will be whether to invest in a manual or in a power recliner.
With this article, you should become more knowledgeable on the types and uses of a manual recliner, and what makes it such a versatile and effective option when it comes to reclining chairs.
---
Power Recliner VS Manual Recliner
Many companies will offer you a choice between a manual, power or electrical power recliner, it is important to understand the differences in characteristics between these before deciding on what will work optimally for you.
So what is the difference between manual and power recliners?
Power Recliners
The power recliner is a relatively new introduction into the recliner world but it has made a huge impact. Power recliners, which are controlled and adjusted by means of a button, use electrical sources to operate rather than a lever that has to be manually operated.
Pros
Power recliners are much easier to use for people with disabilities that causes immobility, because a manual recliner may take some physical strength to operate.

Power recliners can be insured as a medical necessity.

There are often more positions to choose from when it comes to power recliners.

There is likewise less wear and tear on power recliners than their manual counterparts, due to their electrical operation, so they may have a longer lifespan.

Cons
Power recliners are much more expensive than manual recliners.

Due to all their mechanical parts and the motor inside, a power recliner can be very heavy and difficult to move around.

The mobility of a power recliner is similarly restricted by the fact that it needs to be close to a power source to operate.

Lastly, should any of the electrical components of the power recliner break, they may be quite expensive to repair.

Manual Recliners
Manual recliners are the best option for individuals that are on a budget, manual recliners are operated using a lever that needs to be pulled by hand.
Pros
The simple internal mechanism of the power recliner is much less expensive to repair or replace.

Manual recliners, in general, are much less expensive than their power counterparts.

A manual recliner is likewise much easier and lighter to move around and not restricted by power cords.

Cons
The lifespan of a manual recliner is usually shorter because of more wear and tear on the mechanical mechanism.

Manual recliners in comparison have fewer settings and options for recline and other features.

As you can see both manual and power recliners have their benefits and downfalls, but mainly for someone who wants something that is easy and less expensive to manage a manual recliner is ideal.
---
Some Features in Manual Reclining Chairs
A solid steel or hardwood frame is a requirement in a manual recliner, for sturdy and durable construction.

Pocket coils and foam inside the cushions of the seat and backrest are ideal for resilience and comfort.

An armrest that is plush and large or a rolled armrest is excellent for a chair that you are going to be relaxing on.

Wooden armrests look elegant and stylish for something that is more aesthetically pleasing than functional.

The fabric or leather upholstery quality should be considered, as well as the ease of cleaning of such.

Other features such as side pockets and cup holders are likewise a bonus.

The recline mechanism should be smooth and easy to use, with a few recline options to choose from.

You can similarly choose from rocker recliners to swivel recliners, and look at characteristics such as ottoman or retractable footrest.

Some more classic styled recliners will have button detail, tufts or side panels.

---
Reviews: The Best Available Manual Recliners
If you are looking for one of the top rated available manual recliners, then look no further, we have listed some of the best in their range;
1
There is none more therapeutic than the zero gravity reclining chair. The manual zero gravity recliner from Human Touch helps to naturally balance out your body for excellent ergonomic and lumbar support.
A classic manually operated recliner with fluid technology using your body weight to gently ease into any reclining angle.

The armrests are extended and the head pillow elongated for better ergonomic lumbar support.

The zero gravity ergonomics allows for a unique balance of support and comfort.

A stylish design available in a few color s of upholstery.

This is the healthiest recliner that you could ever invest in.

---
2
The Devoko Home theatre is a plush and comfortable manual reclining sofa. Ideal for relaxing in front of the television, watching your favorite shows with family and friends.
A solid metal and wood frame that is heavy duty and extremely durable.

Covered in soft and comfortable PU leather, that is very easy to keep clean.

The recliner back can be adjusted from 90 degrees up to 180 degrees and is flexibly used in three modes.

There is a comfortable and easy to use a manual footrest, to support your entire body.

This chair comes already fully assembled, so there are no hassles with assembly.

---
3
An excellent choice in reclining sofas, the Mcombo Armchair has a gorgeous style and sturdy build. You can relax your head, neck, back and legs to the full in this superb chair.
The heavy duty steel frame is more durable and similarly can handle up to 350lbs in weight.

A plush and comfortable thickly padded back and seat offers you comfortable support.

There are dual side pockets where you can keep small items safe.

Each intermediate armrest table that is included, comes with two cup holders.

The leg rests are expended by springs and can be retracted when you need more space.

Covered in premium poromerics leather with double reinforced saddle sticking, for a classic look that is very durable.

---
4
A luxurious, bonded leather Contemporary styled recliner, from Canmov that is breathable and superbly comfortable.
Breathable bonded leather upholstery that keeps cool and comfortable while staying durable.

Filled with high-density foam that is exceptionally comfortable and supportive.

The lumber system is laminated and manufactured from superior veneer.

Enjoy maximum comfort and lounging in your bedroom or living room.

Decorated with brass nails for a classic and luxurious style.

---
5
The Barcalounger Mission is one in a million! A push back reclining chair with gorgeous characteristics of a arts and crafts time period.
Reclining chair with manual pushback function.

Excellent decorative detail and style, ideal for an artistic and modern home.

A semi-attached pillow back for further comfort.

Inside there is Leggett and Platt Mechanical Bullnose tight seat Pocket coil in down wrapping.

Lastly, this chair is finished with beautifully hand carved rich mahogany wood that has been stained for extra effect.

A stylish and elegant piece, great for small spaces.

---
6
The FurnitureMax is a plush and comfortable reclining sofa in a Benton Dessert color. Ideal for the modern home, this chair is both stylish and highly functional.
Features thick luggage style topstitching with durable welted seams.

The pillow top arms and pillow back is indulgent and luxuriously comfortable.

Upholstered in soft and durable microfiber polyester in a gorgeous Desert or Coffee color.

The reclining mechanism has self-lubricating bushings that allow you to fully lay out recline positioning.

The seats are encased in polyurethane foam that is highly resilient and will not lose their shape in time.

---
7
The FurnitureMax is a plush and comfortable reclining sofa in a Benton Dessert color. Ideal for the modern home, this chair is both stylish and highly functional.
Features a sturdy steel frame that has a large weight capacity, for long lasting durability.

The backrest and footrest are easily adjustable.

Covered in waterproof and stain resistant leather that is very easy to maintain.

A comfortable padded sponge backrest and seat for luxurious comfort.

---
To Conclude
Manual recliners may require a bit of effort to handle, and not carry all the nifty features of a power recliner.
But, on the other hand, manual recliners are much more affordable, easy to move around, much more mobile and less restricted by power cables, and yet they still offer exceptional comfort features.
---
Index Table: The Best Manual Recliners
---
Please Rate this Article:
---
---