Headrest pillows are not only essential for being comfortable in your recliner chair.
Find out more about why you need a headrest pillow, pointers to consider before purchasing a headrest pillow for your recliner, as well as a look into a few of their best features.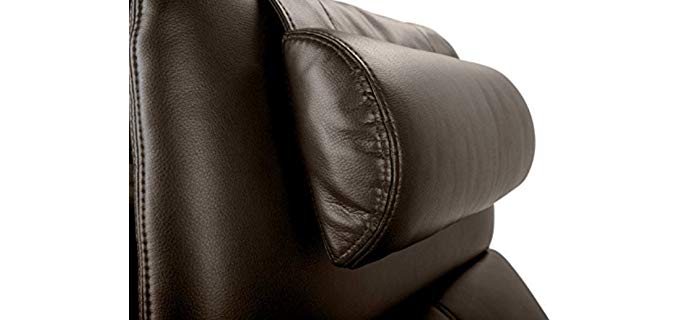 ---
3 Reasons To Get A Good Headrest Pillow For Your Recliner
Here are three great reasons why everyone will benefit from getting a headrest pillow, for either a recliner, sofa, car or office chair:
Back Support – Headrest pillows provide optimal backrest support, which will keep your spine in an ideal alignment. The right headrest pillow will also help to remove pressure from your neck, back and hips.
Comfort – Being able to relax your head back onto something that has neck support feels incredibly comfortable. Particularly when one reclines in a recliner chair, neck support is essential to keeping your spine relaxed as well as straight.
Functional – Headrest pillows are very functional. One can often use one for a recliner, but also for a car seat, outdoor chairs, lumbar support or in the office. The majority of headrest pillows are transferable from one chair to the neck, provided the chair is not merged with the wall.
---
Recliner Chair Headrest Pillow Buying Considerations
Before finding the best headrest pillow for your recliner or other furniture items, it is important to note the following considerations:
Size – The size of the pillow is important for avoiding neck strain. It's best to measure your neck and get an exact fit for the pillow you need. Choosing a pillow which is slightly larger than your neck is better than selecting one which is slightly smaller.
Fill – The filling of the pillow will determine the type of support it will give you concerning density. Medium-Firm fills are the best, such as foam. Foam and shredded foam are often used to provide the best toss up between comfort and support.
Attachment – Make sure your recliner headrest pillow has an attachment that can vary in length. This will allow you to use it in many more applications than just the neck of your recliner chair. It is a good idea to double check the measurements of the attachment to make sure it will fit your recliner chair.
---
Features of a Good Headrest Pillow
So you know what to look for, here are the best features of recliner headrest pillows:
Removable Cover – A removable cover allows the headrest pillow to be washed in the laundry without worry about messing up the pillows filling. A removable cover also sometimes allows for the user to adjust the height of the pillows, by reducing or adding to the filling.
High Density Filling – A higher density filling is better than a low density one. Keep your eyes peeled for high-density foam.
Fully Adjustable – A pillow which is fully adjustable is better than one that can only provide support for your recliner chair. If the pillow is fully adjustable, it will be able to work as lumbar support, neck support and leg support for most applications (such as on a car seat).
Durable – Naturally a durable headrest pillow is desirable. Materials such as leather are highly durable and will last you for decades.
Portable – Most headrest pillows are portable and this is one of their best features. Look for straps to attach the travel pillow to your luggage or body when you want to take it with you. Travel pillows are the next best thing, and they can double up as being headrest pillows no matter where you are.
---
Reviews: Recliner Chair Headrest Pillows
Below is a top selection of reviewed headrest pillows, all sure to enhance the quality of reclining in your favorite chair!
---
1
This headrest pillow has a premium design, suitable for all high end leather recliners that need some neck support.

Covered in Top Grain leather, this headrest pillow will likely last longer than your recliner will!

Filled with high-density fiber which offers your back and body a medium-firm body adaptive support.

The cover has an anti-slip grip on the underside, allowing you to easily hang it off the back of the chair in any position you like.

Perfect for neck support or lumbar support, one can use the pillows on both recliner chairs or car seats.

---
2
This headrest pillow is suitable for a recliner chair, as well as any other chair that is not mounted on the wall!

A long circumference of ±29 inches allows you to use this pillow on virtually any chair, as well as position it where you need it the most.

Covered in a removable soft velour cover, the pillow is machine washable and easy to toss in with the laundry.

This pillow will help alleviate back and neck pain, which is of great use to pregnant moms or those who are on their feet all day.

Stuffed with hypoallergenic polyester for soft and supportive comfort.

Transfer this pillow to your car and support yourself on the go.

---
3
This headrest pillow is perfect for use with a zero gravity chair or other recliner chairs (not recliner armchairs).

Adjust the length of the straps to allow for it to support your back or your neck, or get two and support both at the same time!

You can use this pillow on the go, in your car, at home, in bed, at the office and just about anywhere else you'd like to be.

The pillowcase is removable and machine washable, allowing you to keep the pillow clean conveniently.

Padded with high-density foam for the firmest and most durable support and comfort.

---
4
This small recliner chair headrest pillow is conveniently portable and easy to use.

The high-density filling is ergonomically shaped to cradle your neck in the most comfortable position that supports your general well-being.

Either side has ties that allow for you to tie the headrest onto any recliner chair or your car seat.

Provides superior comfort and aligns the spine into the correct posture for minimal pressure or discomfort.

An inner mesh lining on the cover protects the foam padding, ensuring the pillow lasts for a longer period.

The cover is made from terry cotton and can be removed for easy laundering in the washing machine.

---
5
If you love to have support no matter where you decide to sit, then a travel pillow like the Flexi travel pillow is optimal.

This pillow is flexible, allowing you to choose if you need it for head and neck support, lumbar support, stomach support, chin support and more.

Not only will the pillow help you to get comfortable in a recliner chair, but it will help you to sleep more easily when traveling by bus, train or plane.

Very easy to carry, you can strap the Flexi pillow onto yourself or your luggage in many different ways.

Flexi has a confident 10-year guarantee, no hassles, and no questions – this pillow was made to last a very long time!

---
Comparison Table: Headrest Pillows for Recliners
---
Please Rate this Article:
---
---