Ever wondered how to tell if a recliner is an authentic leather or not?
This buyer's guide is here to help you to understand the difference between commercial leather and good quality leather, as well as sharing all you need to know before going to purchase a genuine leather recliner chair.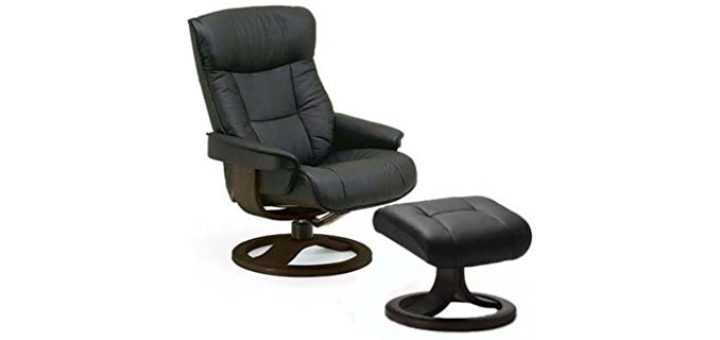 ---
What Leather is Genuine Leather?
You get many different types of leathers when looking into recliners. Genuine leather is the bottom tier of leathers that are of high quality. The other kinds of leather are blended with plastics or other materials which detract from their quality. The three most important form of leather to opt for are:
Geniune Leather – this is leather in its purest form which has been refined and smoothened down. This is commonly the best form of leather used in recliner chairs today.
Top Grain Leather – this leather has undergone some refinement, but usually keeps one side unrefined, giving it more toughness and durability than average leather.
Full Grain Leather – this is the best quality leather you can find in the entire world, barely refined and still holding it's strong characteristics. Full grain leather will last generations.
Leather that has been mixed with another substance is usually referred to as PU Leather. Bonded leather is another type of leather that is by far better than PU leather, being genuine leather that has undergone a specific process.
---
Geniune Leather Recliner Buying Considerations
Regardless of what the recliner is upholstered with, you will need to take into consideration a few things before you decide to buy.
The Recliners Purpose – the term recliner covers an incredibly large group of chairs. You may want a recliner sofa for your lounge or a zero gravity recliner. Nursing mothers have found rocker recliners to help them to breastfeed. You also get swivel recliners, massaging recliners and recliners that can help you to get from a sitting to standing position.
Sizing – if the recliner is the wrong size for your body, then you may land up with back pain or neck problems. Make sure each section of the recliner either matches your size or that the recliner is adjustable.
Wall Space – some recliners are wall hugging recliners, which means they require less space to operate. Another name for these recliners is space saving recliners.
---
Characteristics of a Good Geniune Leather Recliner
Here are some of the best leather recliner armchair features, so that you know what you can expect.
Zero Gravity – some leather recliners can recline up to 170 degrees backward, which will place you in zero gravity position. In zero gravity position, the heart falls into alignment with your knees, reducing the force of gravity to zero. This takes a lot of pressure off the body, allowing it to feel nearly weightless.
Body Contouring – with the invention of memory foam, some recliners have the ability to form an exact contour of your body shape, making it easy to relax in them!
Lumbar Support – without adequate lower back support, it is very difficult to get comfortable or to rest with a good posture. Recliners with padded back support most often provide decent lumbar support.
Fully Adjustable – Some recliners come with an independently adjustable head, and foot rests, which allows you to rest in the best position for you.
Hardwood Base – traditionally, a hardwood base such as Birchwood is the best for recliner chairs. Stainless steel is another material that is just as sturdy and will last just as long.
---
Reviews: Best Genuine Leather Recliner
Have a look at our list of the best genuine leather recliners we could find online.
---
1
This incredibly luxurious leather recliner chair is made from very good quality genuine leather.

Scandinavian in design and style, accentuate your lounge or office with a comfortable glider recliner chair and ottoman.

Available in 13 different colors with four different base finishes choices.

Designed with proper lumbar support, each panel of this recliner chair has been backed with high-density foam for the best resting posture.

Fjords patented active release system allows for you to glide back and put your feet up quickly.

Fully adjustable backrest and footrest.

---
2
Another superior Fjords genuine leather recliner, this recliner can go all the way back, offering zero gravity as a function.

The fully adjustable headrest allows you to position yourself in the most comfortable position for you.

Thick padding ensures optimal lumbar and back support, and when combined with pressure relief from zero gravity, provides you with the deepest rest time.

Enjoy reading, napping or watching television in this fashionably designed recliner.

The smooth glider mechanism allows you to stop at any point, so you can decide on the angle that's best for you.

This recliner can rotate 360 degrees, making it ideal for placing anywhere in a room.

---
3
This beautiful classically designed recliner chair is made using the finest bonded genuine leather.

Adjust the chair to the perfect height and angle.

Use the ottoman to support your legs or use it elsewhere in the house to put your feet up in other chairs.

Swivel round full circle in this recliner chair and use the smooth glider mechanism to drop you back slowly into any reclining position.

Compared to most other recliners of this quality, this is a very viable option for those with a tight budget.

Doubles as the ultimate office chair!

---
4
This arm chair is upholstered in very good quality genuine leather and modelled in a classic style.

Stuffed with carefully shaped foam and polyester fiber filling, the cushions padding this armchair are incredibly comfortable.

This recliner chair will save space compared to most recliner chairs, needing very little space to recline.

This armchair has been described as "the perfect chair."

Built from a combination of hardwoods for tried and tested durability.

Ideal chair for lounging in, watching television of reading.

---
5
This chair is described by the manufacturers as the perfect chair and for a few good reasons!

The smooth lever recline mechanism is designed to set you down easily, without confusion or a bumpy ride.

The chair is upholstered in premium full-grain leather and padded with the best-contoured foam available.

High definition lumbar support adds to the already pain-alleviating zero-gravity experience.

Feel the pressure melt off your back and muscles as you ease yourself into a weightless anti-gravity position.

The base and recliner chair was all handcrafted, or hand made.

Available in 11 different colours to choose from.

---
6
The Barcalounger Charleston is upholstered in durable and high-quality genuine leather, with a Pine and plywood frame.
Upholstered in fine quality top grain leather.

Constructed from a Pine and Plywood frame that is studry and long lasting.

A push back recline system and classic wingback style.

Comfortablly padded in a rich burgundy leather color design.

---
7
A stunning rich brown Bonded leather recliner with classic style and sophistication from Acme.
Upholstered in fine quality dark brown genuine bonded leather.

Decorative double stitching and classic recliner style.

Fully reclines into different seated positions.

A comfortably paddind back and seat.

The arms rests are also padded.

---
8
From ComHoma we have the Modern styled leather rocker recliner in one, complete with swiveling function and cup holders.
This chair can Rock, recline and swivel up to 360 degrees.

Upholstered in durable and smooth genuine leather.

Heating function and excellent lumbar support.

This chair likewise features an 8 point massaging function.

---
Index Table: Top Rated Genuine Leather Recliners
---
Please Rate this Article:
---
---