Want to know what some of the best leather recliner chairs look like?
In this leather recliner buyer's guide, you'll learn the distinction between different types of leathers, the best leather recliner features, as well as some leather recliner chair buying precautions.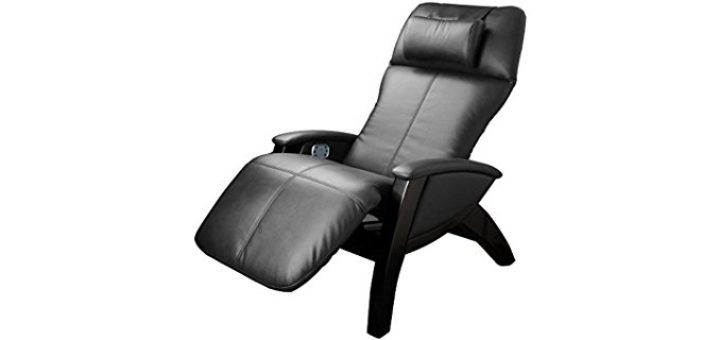 ---
Understanding Different Types of Leathers in Recliners
The quality of the leather that upholsters your recliner chair is important. Leather has a reputation of lasting long, looking good and being easy to maintain. However, different types of leather have different properties and last for different lengths of time.
Full Grain Leather – full grain is the best leather quality, being the thickest and purest form of leather. Full grain leather will last the longest time, sometimes even having a life span of 100 years of more!
Top Grain Leather – top grain leather is not as thick as full grain leather, having one or both sides sanded until smooth. This makes for the best leather to upholster leather recliners because it will last several generations.
Genuine Leather – genuine leather is much thinner than top grain leather. It doesn't last as long, but will still survive 10-20 years if looked after properly.
Bonded Leather – bonded leather is leather that has been infused with vinyl or something similar. Bonded Leather can be easy to puncture if you are not careful, but it's more stain resistant and easier to clean than the other types of leather.
---
Leather Recliner Buying Considerations
Before you decide to lay down any money on a leather recliner, there are a few buying considerations to think about.
Recliner Dimensions – the recliner should be the right height for you and not too big or too small. If the recliner does not match your height and build, it may create leg, hip or back problems.
Wall Space – decide where you want to place your recliner and make sure you have enough space behind it to recline. An ordinary recliner chair will need between 8 – 12 inches to recline, whereas a space saving recliner chair will need between 4 – 8 inches.
Type of Recliner – there are many kinds of recliner chairs available for you to choose from and they all differ from one another quite dramatically. It would be wise to decide what you need the recliner for – you may want a massage recliner, a lift recliner armchair or a reclining office chair, amongst others.
---
Defining Features of a Good Leather Recliner
The best leather recliners have some other incredible features that you won't want to miss out on!
Zero Gravity – zero gravity position is exactly what the name sounds like; it's a position where the force of gravity weighing down on your body is reduced to 0. This alleviates a lot of strain off your entire body while easing circulation and ultimately relaxing you.
Memory Foam – memory foam was developed by NASA for astronauts to be comfortable in space. It creates a unique 3D impression of your body when you recline back into it, making it one of the most potent ergonomic padding materials for your leather recliner.
Power Recliner – a power recliner is a recliner that has more than one motor, allowing for independent control over the head and leg rests. With this feature, you can adjust the recliner to a position that suites you perfectly.
Lift Function – many elderly individuals and chronically ill patients battle to stand up from a sitting position. The lift function of some leather recliner chairs ejects them gently, lifting them up to a standing position.
Massage – we all get tension that sits in our muscles from time to time. That is why a massaging recliner chair is one of the best ways to relax! Massage recliners typically offer a variety of massage programs to alleviate pressure points on your back, neck and legs.
---
Reviews: The Best Leather Recliners
Here we have carefully selected some of the best leather recliners available for purchase online.
---
1
This leather recliner chair and ottoman set makes for one of the most comfortable recliners of it's kind.

The pads are stuffed with memory foam, which holds you in a perfect posture, alleviating pressure points off the back.

The recliner will last up to a few years thanks to the top grain leather upholstery and the stable European hardwood base.

Styled to Norwegian home comfort, this leather recliner immediately enhances the look of most interiors.

A separate ottoman allows you to decide if you want to recline fully or not.

The base of the recliner swivels, making it ideal to place anywhere in the room.

---
2
This big bonded leather recliner armchair will make the perfect addition to any living space.

Just kick back on the leg rest and let this recliner do the rest of the work, taking you down into your favorite position.

You can move back and forth on this recliner, which duals as a glider.

Ideal for maternity and nursing moms, as well as for watching television or reading a good book!

Styled in studded bonded leather for easy maintenance and a great look.

---
3
The Cozzia Power Recliner chair is one of the best middle range zero gravity recliners you can buy online!

The entire chair has been ergonomically designed to cradle your spine, which gives you a genuine opportunity to sit back, relax and rejuvenate your spirit.

At the push of one button, you can recline back smoothly into zero gravity position and feel all your worries melt away.

Choose from a variety of heated massage settings to vibrate any tension away.

Covered in high grade bonded leather and crafted with a beech wood base.

---
4
If you like vintage semi gothic interior design, this black leather Winslow recliner armchair is perfect for you!

Two large overstuffed high-density foam pillows give for a very comfortable seating arrangement and are easy to remove and clean.

The recliner is upholstered in luxurious old saddle black leather.

This recliner will last you at least a couple of years, enhancing the décor of your home dramatically.

This recliner chair has no lever; one need only lean backward to recline fully and enjoy.

---
5
This lift recliner is one of the most superior recliners to help you get up when you need to.

Choose from 3 preprogrammed positions to relax in or save up to 2 of your own personalized favorite positions.

Covered in a special Brisa leather, which is an ultra luxurious faux leather unique to Golden Technologies.

The back support of the recliner is unmatched, consisting of four thickly stuffed segments that cascade down into one another.

Keep your posture straight and reduce the pressure on your back immensely.

The recliner comes inclusive with a heated massage option for extra pain relief and comfort.

---
6
The Mac Motion Madal sand color recliner boasts rich and stunning genuine leather upholstery in the most elegant sand color.
Genuine Top Grain Leather upholstery.

Wooden frame with a sand and walnut finish.

A pillow top back to rest your head on.

Features full 360-degree swiveling function and full recline.

Offers you excellent lumbar support.

---
7
A traditional and Vintage style Wingback recliner from Barca Lounger in a classic Black leather upholstery design.
Manufactured with luxury Black leather upholstery and a dutable wood frame in a gorgeous pine finsih.

Push back recline with a retractable footrest.

Wingback detail and classic recliner style with a Vintage feel and appeal to it.

---
8
Something a bit more durable and budget-friendly is a PU leather recliner, which is a faux polyurethane leather that looks and feels just like leather. the Rhomtree is an excellent model in PU leather recliners.
Features highly durable and easy to clean PU Leather upholstery.

Extra thick plush padding with a cloud-like comfortable seat.

Very durable construction with a wooden frame.

Full recline and retractable footrest at your fingertips.

---
9
Elegant and classic design with a Vintage style and top grain Burgundy leather upholstery, from BarcaLounger.
Upholstered in the finest quality Top Grain Burgundy Color Genuine leather.

A push back wingback style recliner with a retractable footrest.

The frame is constructed from durable pine and plywood in a smooth and elegant finish.

Comfortably padded and stylish design.

---
10
The genuine leather swivel chair from Super Nova is the ideal office or home recliner with ottoman in leather.
Genuine leather and vinyl upholstery with high-density foam padding.

Euro-style with an additional ottoman with Walnut finished bases.

Ideal for the office or a small area in your home.

The perfect space saving design.

---
11
The Acme Fullerton in brown Bonded leather is a cozy oversized recliner with durable and detailed stitching.
Oversized and overstuffed thick armrests pillow armrests cushioned back extra large size
Upholstered in highly durable and quality Bonded Leather.

Decorative and strong double stitching etails.

Offers full recline and a retractable footrest.

Oversized stuffing and a large seat.

---
Index Table: Top Rated Leather Recliner
---
Please Rate this Article:
---
---