One of the most popular and comfortable brands in recliners that you will find is CatNapper® Recliner.
There is simply just nothing that compares to the CatNapper when it comes down to plush and cozy comfort.

---
What Generally Makes a Comfortable Traditional Recliner
When we think of a recliner, something cozy and comfy with thickly padded seats and armrests comes to mind, that you can recline flat with your legs up relaxing or taking a nap in.
Here are a few characteristics that make a comfortable and cozy recliner what it is.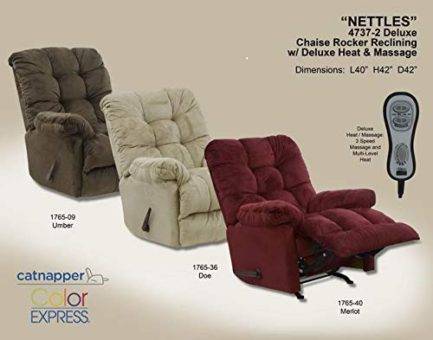 Upholstery – Upholstery can range from a variety of smooth, plush or velour fabrics, up to leather, synthetic leather or suede feel leather, the decision of which is up to you. Though smooth leathers and PU leathers are more easy to clean and maintain, and less resistant to stains, they can become cold in the winter and sweat in the summer, lacking that "cozy" feel. Whereas Fabrics such as cotton, microfiber, and polyester, among others tend to be more prone to stains and less easy to clean, though they have the plush factor and a more comfortable and warm feel

Recline – The Recline function in any recliner is vital, and you have the choice between a manual recliner, usually operated by a lever, or push back, or the Power Recliner which is operated with a remote or console. Both these recliners can offer you different angles of recline, and there are some that can even recline to a Zero Gravity position.

Leg Rest – In any recliners that is of any good the leg rest is an absolute must. Whether manually or button operated the largest should extend to a comfortable, or a few different positions to fully support your legs and feet. Most regrets are fully cushioned and retractable, with the exception of separate ottomans which can likewise be used for this purpose.

Other Features – Besides the main Recline and Legrest feature that every basic recliner will have there are other luxury and convenience features that can be additional should you need them, these include; Power Lifting feature;Massaging of different modes types and intensities;Heating;Vibrating Massage;Rocking;Swiveling;Gliding'Cup Holders;Side Storage Pockets;An art storage compartment or even cooler;LED lighting;USB ports; additional headrest that is adjustable and in some cases even a foldaway table or tray to place laptops or other items on.

---
What Makes the CatNapper® Recliners so Special
The CatNapper is one of the most sought after and popular names in comfort recliners that you will find. It is distinguished by its oversized and overstuffed design, with the motto of allowing you a comfortable nap in your reclining chair.
A few Things that make the CatNapper top of its class are;
Sturdy and durable frame that can hold excess weight.

Thickly padded and overstuffed seat, back and armrests.

Comfortable recline positions that you can sleep in.

Soft and plush upholstery that is highly comfortable and cozy.

Easy to operate the footrest and recline functions.

Versatile designs each with their own unique features.

Extra large and extra wide shape.

Very high-quality materials and craftsmanship.

---
Features of a Good CatNapper Recliner Model
Upholstery – Polyester Suade, Textured Polyester, PU Leather; Top Grain, Padded and Bonded Leather, Genuine Leather, Patterned Upholstery, Plain Solid Colors Upholstery, Microfiber.

Frame – Steel and Silt, reinforced frame with a weight capacity of up to 400lbs, as steel seat box to prevent splitting.

Recline – Power or Manual, Flat Recline, different recile positions.


Footrest – Oversized, retractable, Cushioned, Ottoman Feature, Lever or Pull Tab operated.

Padding and Seat – Comfort Coil and Gel, Lumbar Support and Headrest, Pillow Arms, Wooden Arms, Foam padding.

Design – Tufted,Pub Back, Steel Seat Box, Over-Scaled design.

Other Features – Power Heating and Massage, Gliding, Rocking, Chaise Rocker.

---
Reviews: The Best CatNapper® Recliner Models
Some superb and comfortable models in the CatNapper that are popular today;
---
1
A deluxe and plush upholstered Rocker and Massaging Recliner from CatNapper with luxury overstuffed seating and availability in three color options to choose from.
Deluxe design with Microfiber upholstery that is soft and stain resistant as well as Overstuffed cushioning in the seat, back and rams.

There is a 3-speed massaging function and Multi-Level heating function.

Full recline and a comfortable retractable footrest.

---
2
The CatNapper Power Lay is a plush and overstuffed recliner that has the ability to of full flat recline.
Upholstered in a soft and luxurious brushed polyester.

Overstuffed, design for luxury comfort.

Full recline capabilities into a Flat Position..

A retractable footrest and a very sturdy frame.

---
3
The CatNapper Malone is another Flat recline model with the addition of an extended ottoman and a Gel Memory Foam insert ideal for larger individuals.
Features a sturdy and durable frame with a heavy weight capacity of up to 400 lbs.

Padded with lush Gel Memory Foam. for heavy duty and resilient comfort and support.

Soft and comfortable fabric upholstery in a neutral color and a bucket style back seat with overstuffed armrests side pillows and seating.

---
4
A Powered recliner, the Ferrington from Catnapper features a full-powered headrest, lumbar, and recline setting all operated from a convenient control panel
Covenient Control panel, that powers the recline, headrest and lumbar features.

Excellent head and lumbar support as well as a retractable footrest.

Full powered recline function.

Thick padding and smooth and durable upholstery.

Extra wide design for added comfort.

---
5
The Hoffner is a sleek and elegantly designed leather recliner with a contemporary style and plush cushioned back and set.
Available in both Chocolate or Chestnut brown leather options. Leather is highly durable and very easy to clean and manage.

A sturdy frame and medium-sized design, with an extra large footrest with ample cushioning.

The back is well cushioned for good back support.

Features Swiveling and gldiding functions, for your convenience and complete comfort.

---
6
The CatNapper Cloud 12 is one of their latest and most comfortable not to mention popular models in plush and cuddler recliner.
A Lay Flat recline design for full reclining comfort.

Overstuffed Tuft Back and rolled arms.

Upholstered in a smooth and luxuriously soft suede feel fabric.

The 100% Steel seat box ensures that there is no warping or splitting for even better support.

Features a plush transitional design for luxury comfort.

---
Index Table: The Top Rated CatNapper Recliner Models
---
Please Rate this Article:
---
---