A Pool recliner is usually an Inflatable type of Lounge chair, with recline properties, which you can use to float inside your pool, while relaxing comfortably.
These recliners are very comfortable and highly effective, and come in many different shapes and sizes, each with their own unique features.

---
Some Benefits of a Floating Pool Recliner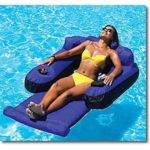 A Floating Pool recliner can be the ideal solution for complete relaxation and comfort on a hot day, drifting away in your swimming pool.
The Floating Pool recliner is safe, stable and has many additional features such as, reclining positions that can be adjusted, and cup and snack holders.
Floating Pool recliners are made from extremely tough and resistant materials, as well as comfortable covers for you to relax on, for the perfect experience inside your swimming pool.
Likewise there are Pool recliners available that can be used both inside and outside of the swimming pool.
---
Types of Floating Pool Recliners
Full Length Chaise Lounger
This is a full length floating Lounge Chair, that has either an adjustable reclining back or the back is already in a reclined position. This type of Floating recliner usually comes with or without armrests, and floats completely above the water.
Adjustable Recliner
The Adjustable Floating Pool recliner can come in any shape or size, and has an adjustable back that can recline into different positions, so you can sit upright or lean back.
Permanent Recline
This is a Floating Pool recliner that is already in a slightly reclined position that is fixed and cannot be adjusted.
Submerging Seat
The feature of this type of Floating recliner is that your body is either in a seated or lying down position, submerged in the water in a mesh or sling type material, with your head and sometimes feet above the water.
---
Features in a Reclining Pool Floating Lounge
Du-Lock, two valve system to prevent deflation and for easy inflation.

Good Buoyancy.

An additional Caddy, Cup or Snack Holder.

Cooling and Breathable top Cover.

Completely waterproof Material.

Different reclining positions.

Durable design and construction.

Comfortable Armrests.

Adjustable headrest.

Additional Footrest.

---
Reviews: The Reclining Pool Floating Lounges
1
The Auqa Campagnia Convertible will ensure you many hours of relaxation, drifting away in the cool waters of your swimming pool while soaking up the sun.
This reclining Pool Lounger comes with a handy drink and snack holder and has a fully adjustable Back and Caddy, for your convenience and superior comfort.
A comfortable and highly attractive looking Lounger for the pool that comes in a Navy Batik print color.

The Backrest is fully adjustable, so you can recline into your favorite and most comfortable recline position.

The full-Recline position is likely very handy for taking a short power nap while bobbing in the pool.

There is an attachable CADDY with two beverage holders and one snack holder for your convenience and enjoyment.

The Fabric of the Lounger is a Soft and Cool-weave from high-quality materials, with a breathable and lightweight mesh cover for a cooling and supportive seat.

Convenient carry handles allow you easy portability.

Furthermore there is a Duo lock for easy inflation with a two-valve system, which prevents the Lounger from deflating.

Super Buoyancy, and ideal for adults up to 250lbs, fifteen years old and up.

---
2
The SwimWays Spring Mesh Floating recliner is an Extra Large comfortable, and convenient Floating Pool Chair, that will ensure your fun and relaxation in an instant.
Very easy to inflate and deflate, and stores quite small, also quite convenient for traveling as it is the perfect portable size.
Features an extra wide seat and extra length so it can accommodate an individual of any size, length or shape.

It is manufactured with Highly Durable materials and patterned inner springs, that are sewn into the outside edges for more comfort and stability I the water.

The cover is soft comfortable and highly breathable to keep you cool in hot temperatures.

Soft cooling mesh will suspend your body just below the surface of the water, to keep you cool and comfortable.

There is an integrated headrest and backrest to support your head back and neck, as well as an additional ottoman, to rest your feet on.

This Lounger similarly comes with a very nifty cup holder, that will hold your dring and keep it cool.

The Lounger folds completely flat, and is easily stored, taking up little space, as well as completely portable.

---
3
I simply love the overstuffed, or let me rather say, Over-inflated, lavish and large design of the Ultimate Pool Lounger from SwimLine.
It is covered in a luxury soft material that will keep you cool and dry, and comes with a handy cup holder and large, and comfortable armrests.
Large in size with large and thick armrests for full comfort.

The Nylon fabric covers the entire pool float, and is super soft and cool against the skin.

The Pool Lounger comes in a dark blue color that is fitting to a poolside theme and décor.

There is a comfortable,l and supportive headrest a footrest, along with the two supportive armrests.

This model comes complete with a very convenient drink holder, to keep your beverage close at hand.

A very versatile Lounger that can be used both INSIDE and OUTSIDE of your swimming pool.

Not entirely reclinable yet the headrest is adjustable, and you are already in a comfortable reclined position.
---
4
Intex is a well know brand name when it comes to inflatable products, their products are durable, reliable and also quite affordable in some respects.
The floating recliner from Intex has a simple, yet highly functional and colorful design that offers you the maximum in comfort and convenience.
A sturdy and comfortable, yet simplistic Floating Pool recliner in a dark blue, white, and grey color option, that is very fitting to your poolside.

This Lounger offers a permanent recline position, that is comfortable and relaxing.

There are two air chambers, as well as dual cup holders to keep snacks and beverages close at hand.

The two heavy duty handles, allow easy access and control.

This Floating recliner comes complete with a handy repair patch kit, should there be a leak at any time.

Tough and durable construction that will last you very long with proper use.

Very easy to inflate and deflate with a two-valve system that prevents the Floating recliner from deflating by itself.

---
5
The Poolmaster Adjustable Chaise Lounger is a full length, highly comfortable and cool Floating recliner. The Back is fully adjustable and there are comfortable armrests to relax your arms on.
A fully inflatable Lounger that is very easy to inflate and deflate, with a two valve system to prevent leaks.

Comes in a lovely water blue color that is perfect for the pool.

The back and the headrest is very easy to adjust, and has an over-sized shape for your comfort.

This Lounger can recline upright and completely flat as well as into a few in-between positions.

The Deluxe I-Beam construction with built-in armrests, ensure full relaxation and comfort.

There are two beverage pockets, to keep your drinks cool and close.

Manufactured from very durable and leak proof Gauge Vinyl.

---
Index Table: The Reclining Poolside Floating Lounges
---
Please Rate this Article:
---
---