We can all agree that a recliner is one of the most used and much needed pieces of furniture in every home. When it comes to comfort and leisure, there is nothing like relaxing in a Recliner.
If you already have a recliner, there are many accessories that you have most likely come across that you can add for convenience and further comfort.
Well, here are a few accessories to make your Recliner your favorite spot in the house!

---
Why do You Need Recliner Accessories
Recliner accessories are there to enhance and further the functionality and convenience of your recliner. Certain accessories such as a blanket or throw protect your recliner while providing warmth and something for you to snuggle in.
A recliner side table, preferably with a cup holder if you do not have one, aids as space to place snacks, a laptop, book and many other things that you need close by.
Want a great massage, but cannot afford a massage function recliner, well then why not opt for a massage pad which is affordable and will work just as well when you need it with your favorite recliner.
Some accessories decorate, some protect, and others just offer an easy and convenient function to promote your relaxation and comfort to the next level.
There are many accessories and many uses and functions for each, the preference and requirement are yours, I have listed only a few that I find highly worthwhile.
---
Some Useful Recliner Accessories and Their Functions
Recliner Risers or Lifters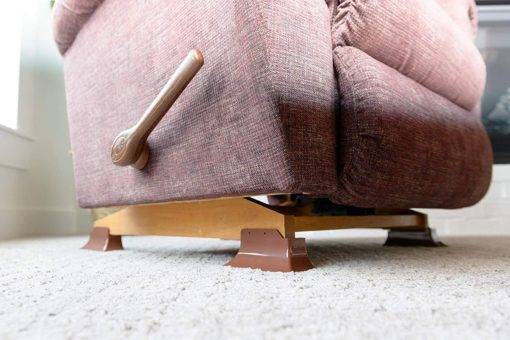 For individuals who struggle with mobility or to get in and out of a low designed recliner, these can be the ideal answer. Small blocks that you attach to the base of your recliners that gives it a few inches in the lift, while limiting the forward tilt.
This biomechanical design allows you to easily get in and out of your recliner, in an affordable way, without compromising the comfort and functionality of your favorite chair.

Blankets and Throws
A blanket of throw can be used to decorate your recliner as well as being there when you need warmth to snuggle up in. A blanket or Throw will likewise protect your recliner from wear and tear, damage and stains, some even have the ability of water repelling.
There are plenty of designs, color, fabrics, and sizes of blankets and throws to choose from to use o your recliner, I have even come across a heated blanket specifically for recliners and sofas. So this option gives you endless choices.

Lever Extenders
Let's face it, sometimes it can be hard and quite impossible to reach the lever which raises and lowers your legrest. If you are tired of this, you can always invest in a Lever Extender, a nifty and highly convenient attachment to the handle of your recliner that makes it easier to reach and grip.
Side Table
Side tables for recliner come in many shapes, sizes and with many features for you to choose from. The best I would say will depend on exactly what you need it for.
In general, a side table with adjustable height settings, a cup holder, and enough space for a laptop or tablet should suffice. You can likewise look at side tables with storage compartments to keep your remote control and magazines in.
Head Rest
Most Recliner Headrests can be bought additionally with every brand of the recliner, specific to that brand. Though there are a few universal options that will fit any recliner or sofa chair.
A headrest provides head and neck support when you are reading, watching television, or even taking a nap.
Massage Pad
A Massage pad is a luxury item, where you can enjoy the function of a massage chair, at half the price, in the comfort of your own favorite recliner.
Pocket Arm Rest Covers
Armrest covers to protect a part of your recliner that gets used frequently, and takes much punishment when it comes to wear and tear. Armrest covers can likewise be decorative at the same time, and functional, such as the pocketed armrest cover.
---
Main Things to Look For in Quality Recliner Accessory
Mainly you should always make sure whatever the accessory it is that you are purchasing, is of good quality, functions as it should, and is the right size and fit for your recliner.
Look for sturdy and durable accessories that will last long and reach their ultimate purpose.
---
Reviews: The Best Accessories for a Recliner
1
The Stander recliner Riser Blocks are adaptable and slip-resistant, giving you that additional few inches of height when you need it the most, in your recliner. This is ideal for individuals who struggle with mobility and find it hard to get up out of their recliner, it likewise offers superior stability.

These rises give a 2-inch lift and limit the forward tilt of your recliner for superb stability and control.

Additional support for a weakened or immobile person with the biomechanical advantage enabling them to stand on their own easily.

A fast and easy, firm attachment to the base of your recliner.

Sturdy and durable design that will last and perform well.

---
2
I have chosen this Bohemian styled throw blanket, which is ideal for all seasons and will suit almost any background décor in your home. Perfect for use on your recliner to protect it, add interest, or to wrap yourself in for warmth and comfort.
Excellent quality Chenille fabric that is soft, durable and breathable for warm comfort.

Features a unique Jacquard technique with tassel design in colorful tribal prints.

Very easy to care for and hand washable, or machine washable, as well as quick drying.

The ideal decorative and functional piece for your bed, sofa, recliner or even just as a picnic blanket.

---
3
The Stander Lever extender is perfect for individuals who struggle to grip or reach the leg rest lever of their recliner. This handy tool helps you to easily and comfortably raise and lower your leg rest wi, with a contoured design and padding, to protect the handle of your recliner.
An Oversized metal handles with a curved grip for easy handling when raising and lowering your leg rest.

Easy to reach design and easy to grip.

Padded to protect the handle of your recliner.

Easily matches the look and feel of your home.

---
4
This is one of the best side tables I could find that is perfect for all individuals, even those who find it difficult to get up out of their chair. This smart accessory features everything that you will need in a side table for your recliner.
An ergonomic safety handle which gives you balance and support when getting in and out of your chair or recliner.

Adjustable height and length and can pivot and rotate up to 360 degrees.

The SureGrip rubber pads offer stability and protect your floor from damage.

Features a cup holder and multi-use TV, or Laptop Tray.

Very quick and easy to assemble and to use.

---
5
There are many different forms of headrests that you can use with your recliner, most are brand specific. I have chosen the Neck Role Headrest pillow which I thought has the most versatile and comfortable design. You can use this Headrest on almost any chair, recliner, car seat or sofa to support your neck and rest your head on.
Easy to slip over the back of your recliner or chair and adjust the placement of the pillow for where you need the support.

Supports both your neck and head eliminating strain.

Excellent use for watching TV, travel or just napping on your favorite chair.

Plush and cushioned for comfort.

Manufactured from Plush polyester with an acrylic cover that can be removed and washed in the washing machine.

---
6
This luxurious memory foam padded, heated massage mat will have you drifting away in complete comfort and relaxation.
Soft Plush fabric cover and memory foam padding that contours to the shape of your body.

Soothing heating function, with six heating pads targeting your neck, head, lumber, thighs and leg areas.

Offers soothing Vibration massaging function with six vibrating pads to soothe and relax key areas of your body.

There is an auto-off function for the heating feature so that it will not overheat.

Fits most sofa and recliner Chairs snugly.

---
7
The Sumee Sofa Organizer is the perfect Armrest Cover with Pocket Organizer for your recliner. It features ample pockets and storage space for different sized items, as well as waterproof protection.
Manufactured from high-quality leather/Suede fabric that is durable and long lasting.

Five pockets in various sizes that can store different sizes and types of items.

An anti-slip back side and completely waterproof.

Versatile and highly durable with a perfect fit for any recliner type.

Available in three neutral colors options for you to choose from.

---
In Conclusion
The accessories I have mentioned, I found to be most versatile and useful when it comes to recliner accessories.
These are high quality items that will enhance your Recliner Aesthetically, and Functionally!
---
Index Table:Recliner Accessories
---
Please Rate this Article:
---
---