Anyone who has purchased themselves a Microfiber upholstered recliner has most likely received the informative speech on how wonderful and stain proof this type of fabric is, from their retailer.
Maybe you have been led to believe that Microfiber is super fabric that can withstand any adversity thrown its way, and yes in many respects this is true, but as with everything in life proper care is required.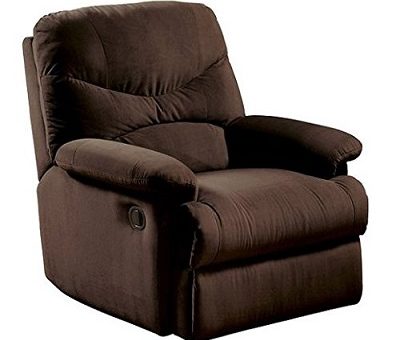 ---
Microfiber is a fabric that looks like suede or leather, it's soft, cuddly, and excellent at repelling water, I must say. The fibers of Microfiber materials are super thin and small, hypoallergenic, soft to the touch, as well as tough and durable. So we can clearly see why this is such a sought after and recommended choice when it comes to recliner Upholstery.
---
Some Great Benefits of Microfiber Upholstery on Your Recliner
A Microfiber Recliner, Sofa or even Couch, is one of the most comfortable pieces of furniture that you will come across, despite that, here are a few other advantages;
Microfiber is stain resistant and superbly repels water like no other material, you can easily remove spills and stains with quick spot cleaning. Although you can be assured that most spills or dirt will not further develop into a tough stain.

Microfiber upholstery is extremely durable and will not rip or tear easily, requiring little to no maintenance in terms of polishes and creams.

Microfiber Recliners will similarly not collect dust, which is a big deal if you suffer from allergies.

Furniture is expensive, let's face it, and if you are on a budget, luckily the Microfiber recliner is very affordable and easy to come by.

Keeping in mind that there are different types of microfiber Upholstery types, it is very easy to clean if you follow the correct methods and use the right products.

A mild soap, cloth and water are generally all that is needed to clean most microfiber recliners quickly and easily.

Lastly, if you love bright colors, Microfiber Recliners are most likely the only type of Recliner that you will find In bright and funky colors.

---
Before Cleaning Your Microfiber Recliner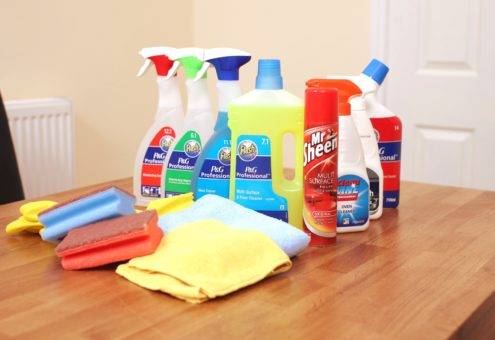 This is quite important;!
Make sure to check the label on your Recliner to see what type of soap or detergent you can use on it. The label will usually read "water-based" or "Solvent-Based" indicated with a "W" or "S".
An "S-W", the symbol indicates you can use both solvent-based and water-based cleaning products, whereas an "X" indicates that you should only vacuum or dry clean this specific Microfiber Upholstery in your recliner.
---
How To Clean Your Microfiber Recliner
Remove all Dirt and Junk
Start off by removing the seats and cushions that are removable and cleaning out all the solid pieces of junk from every crevice, nook, and cranny in your recliner. You may be quite surprised what you can find after a couple of years, hiding in the crevices of your recliner.
Vacuuming
For this you may need a vacuum with a hose, or a small attachment for the hose to vacuum your recliner. Make sure to thoroughly vacuum the entire exterior, underside, and once again, all the crevices. Try to remove as much dust and pet hair with your vacuum, Microfiber tends to hold on to hair and dander. You can also use a brush to brush the hair and dander from your recliner gently and then follow up with your vacuum again.
Stain Removal
Check for hard wearing areas that may have grease, food or other stains on it, as Microfiber does not really stain, it will not be hard to wash off. You can use either baking soda or the appropriate washing product with a soft brush or toothbrush, and gently rub the stains, until they come off.
Make sure that you have covered every area and removed every stain. Once you can see a stain has disappeared, use a wet or damp cloth to wipe away excess dirt and soap or baking soda. For tougher and older stains this process can be repeated and lukewarm water can be used with the cleaning product.
Never over-saturate your recliner with water or liquids. In some cases, you may have a vacuum cleaner that is both a dry and wet model, in this case you can use it to soak up excess liquids and water from your recliner.
Cleaning
For this you will need a spray bottle if possible, a cloth or soft brush, and some vinegar and lukewarm water, unless you have a special product or detergent.
Spray or slightly dampen the entire recliner with the mixture and lightly wipe or brush the entire recliner off with the solvent. A Shoe Shine brush that is still new and unused is the perfect cleaning tool for a microfiber recliner. Wipe off excess solvent and dirt with a damp cloth, making sure again not to saturate your recliner in liquid.
Now you can use your wet and dry vacuum again, or leave your recliner to dry for a short while, open some window and doors to speed up the process.
Re-Vacuum
If you only have a dry vacuum, you can once again vacuum your recliner thoroughly after it has dried. Washing and cleaning your recliner aids in loosening dander, hairs and lint, which may still be stuck to the material, a final vacuum session will help to remove the last few pieces of dirt and dander.

Conclusion
Performing a cleaning session on your recliner on a monthly basis will surely keep it in the tip, top shape for much longer. It is likewise advised to immediately clean and dry off any spills and stains before they have time to set in.
---
Tips on Cleaning a Microfiber Recliner
When it comes to a Microfiber upholstered recliner or furniture there is a definite rule in cleaning depending on the type of microfiber used. Most recliner or Sofas will have specific instructions as what detergents and products are safe to use on your specific type of Microfiber Recliner.
---
In Conclusion
Microfiber is soft, durable, water repellent and stain resistant material made from weaving a variety of materials together in a very small weave. It has an elegant and classy appearance with a satiny soft feel to the skin, and most importantly it is quite affordable.
In order to keep your Microfiber recliner looking great, and to prevent quick wear and tear, some cleaning and maintenance on a semi-regular basis are necessary. As you can see from my cleaning tips, the maintenance of such as recliner is quick, easy and quite affordable.
---
Please Rate this Article:
---
---