If you want to get the best-heated recliner for your living room, then you should pay attention to this nifty buyer's guide!
Below we have put together information on the different types of heated recliners you can get, what their best features include, as well as reviews of some of the very best heated recliners that money can buy.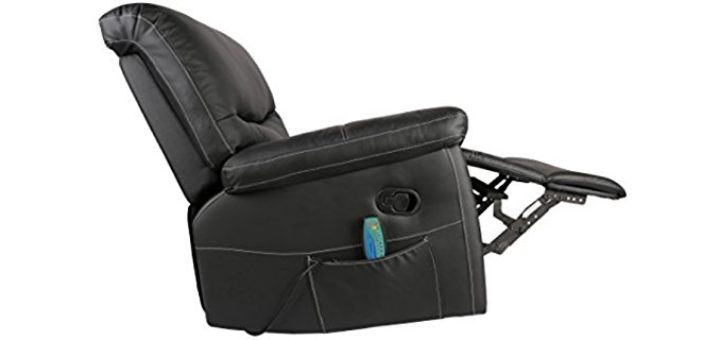 ---
Different Types of Heated Recliners
A heated recliner can be any or a combo of the following types of recliners:
Massage Recliners – Massage is the most common feature to be paired with heat (makes sense!). Massage recliners will massage your back and body, relieving pressure and tension after a long day. More depth is covered in the section below about massage recliners.
Zero Gravity Recliners – Zero gravity is a position where the knees are raised above the head and in line with the heart. This position brings the force of gravity to 0, which is otherwise constantly weighing down on us. This brings the body immense relaxation and stress relieving benefits!
Swivel Recliners – A swivel recliner can rotate 360 degrees in a full circle. These recliners have the benefit of being able to be placed anywhere in a room.
Extra Wide Recliners – Extra wide recliners are larger than an average recliner but smaller than a reclining loveseat. Also sometimes referred to as a recliner and a half, a cuddler recliner or a double recliner.
Rocker Recliners – Rocker recliners rock back and forth like a rocking chair. Unlike the back and forward motion of a glider recliner, a rocker recliner maintains the traditional rocker curved arch when it moves.
Power Recliners – A power recliner is electronic and powered by more than one motor. This allows the user to raise/lower the headrest and leg rest independently of one another.
---
Heated Massage Recliners & Massage Techniques
Heated massage recliners have four different types of massages they offer, sometimes offering more than one!
Vibrate Massage – Vibrate massage is the most common type of massage that a heated massage recliner offers. Several points of this recliner vibrate, often strategically placed at pressure points of the body. The vibrations alleviation your pressure points and feel invigorating. These massage recliners are also the most cost-effective out of all the options.
Kneading Massage – A heated recliner that offers kneading massage is great! The mechanism either uses air, water or mechanical knobs which press gently (or firmly if you want) on either side of the spine. This feels like a masseuse's hands are working your back, greatly eliminating back pain and tension.
Roller Massage – Roller massage recliners use roller pins that roll up and down the back. These feel fantastic and tend to flatten any bumps you might have. Particularly good for athletes with a build-up of lactic acid or with those who have stiff muscles.
Shiatsu Massage – Some recliners have advanced to emulate the professional massage technique known as Shiatsu massage. This technique involves rubbing, kneading and rolling in all the right places for optimal pressure point alleviation.
---
Features of a Good Heated Recliner
Aside from being able to give you a back massage, the best-heated recliners come with many other fantastic features!
Inner Springs – The padding in recliners is usually made of some form of foam. Some recliners make this even more comfortable by incorporating inner springs in the seating. Not only does this bolster the comfort of the recliner, but it adds far more back support.
Bonded Leather – Bonded leather is leather which has been infused with either latex or polyurethane. This type of upholstery comes with the advantages of being waterproof, stain resistant, durable and easy to clean.
Ergonomic Design – A recliner with an ergonomic design gives your back better support, which leads to fewer back problems and more comfort in the long run. To tell if the recliner has an ergonomic design, look to see if the neck is supported, as well as if there is dense padding behind the back. A good rule of thumb is that the more ribbed segments or folds to the recliners padding, the more supportive it will be.
Extended Foot Rest – An extended footrest is important to provide the best level of support. Some recliners fall short at the feet, supporting you up to your ankles and letting your feet hang off the end. This can cause problems, especially if you intend to remain reclined for long periods of time.
Automatic Massages – The most sophisticated massage recliners have buttons you can press, with automatic programs to select from. Many of these allow you to customize the massage you want and decide on the duration, or you can choose an in-built massage program of your liking and just let the recliner do the work!
---
Reviews: The Best Heated Recliners
Below we have reviewed some of the best heated recliners, available for immediate purchase!
---
1
This recliner goes far beyond ordinary heated recliners, offering a large variety of heated massages and unlimited positions.

Have your pick out of 9 automatic programs, including specialized programs for those who work in the office, golfers, senior citizens or athletes.

The quality of the massage combined with the heat is unmatched by other recliners, using a blend of kneading, tapping, knocking, rolling and shiatsu.

Human touch technology has made these recliners feel virtually like human hands, taking heated massage to the next level and bringing the masseuse into your home.

The frame has been designed to accommodate all body shapes and sizes up to 320 pounds, giving you enough room to sit back and enjoy.

---
2
Another superior heated recliner that has multiple massage options to choose from, including rollers and shiatsu massage.

The chair is shaped ergonomically with the best back support and rollers that move in an S shape on either side of the spine.

Choose from 4 great automated programs or design your own massage programs while setting the timer for how long you wish to relax for!

The whole system is 100% silent, allowing you to fall asleep while reclined and wake up when the alarm goes off.

Includes Zero Gravity position for those who need even more relaxation and stress relief.

---
3
This heated recliner doubles as both massage and swivel recliner, making it suitable for all your living requirements.

Upholstered in soft PU bonded leather, the recliner is stain resistant and easy to keep clean.

It includes an 8 point vibrate massage that is remote operated, allowing you to lean back and relax while watching some television.

Reclines fully making it the best height for relaxation, stress relief, and leisure.

Side Cup Holders, where you can store drinks or snacks.

Imagine reclining while rocking back and forth with the heat and vibrate massage functions on – heaven!

---
4
Cozzia is proud to present you with this sophisticated heated recliner chair that can take you all the way back into zero gravity with ease.

At the touch of a button, you can opt for heat, a vibrational massage or to recline back to any position you desire.

The chair looks modern and minimalistic, being design ergonomically for optimal back support and able to enhance any living room interior.

The upholstery is made using very high quality bonded leather, adding to the recliner's durability, resistance to mess and convenience to maintain.

This heated recliner could become your new favorite office work chair, allowing you to relax in between and take the edge off!

---
5
Here is a sturdy, durable heated recliner chair that will make a fantastic addition to your living room or office.

Designed with a retro theme, the recliner is upholstered in easy-to-clean bonded leather and is resistant to wear and tear.

The massage function includes eight vibrational motors that target pressure points along your body, efficiently alleviating tension.

An extended footrest helps you to feel more comfortable without having any leg or back problems in the future.

Overstuffed armrests and an ergonomically designed backrest make this your ideal resting place when at home!

---
6
The Esright Massage and Heat Therapy recliner will have you coming back for more every time.
Enjoy the therapeutic and relaxation benefits of both a heating and massage function, nothing comes close to it!
Sturdy and durable design with soft and easy to maintain PU upholstery, and thickly padded back and arm cushions, for intensive use.

An added two cupholders and four storage bags for even more convenient comfort.

The 360-degree swivel and 150-degree decline are just two of the many stunning features.

A massage the feature with five control modes and two intensity levels, heating and vibration features.

Electrically powered and remote controlled.

---
7
A dazzling Deluxe Heating recliner from Relaxzen that also offers you a soothing massage.
Melt away aches, pains an all the stress of the day in this highly functional, and superiorly comfortable reclining chair.
Eight powerful motors provide you with nine different massage modes along with the optional heat function, which you can all easily control with a handheld remote.

An included ottoman gives you a tension relieving vibration massage for your legs and feet.

You can similarly change the intensity and speed levels to your personal preference.

There is a swivel, recline, and tension recline adjustment function furthermore, available.

Lavish thick Chocolate colored microfiber upholstery that is copiously padded, with a gorgeous wooden base

---
8
Lay back and relax, leaving behind all your worries and stress, and permit the Mecor Ergonomic Recliner to do the rest with a soothing massage, pain relieving heat, and rocker to lull you to sleep.
There is an eight-point position massager to relieve pressure on your neck, massage your spine, and stretch your joints and shoulder muscles.

Upholstered in the finest quality soft bonded leather.

Sports an impressive weight capacity of 400lbs.

Additional and convenient cup holders, along with front and side pounces.

Ergonomic design with 135 degrees reclines and pop up footrest.

A 360-degree swivel function and furthermore pain relief heating function.

---
9
This is a superb heated recliner for those who have problems to stand up on their legs without assistance.

You can select from 5 different massage options using a remote control.

Upholstered in PU Bonded Leather for ease of cleaning.

Choose to set the timer, so you don't need to worry about oversleeping when you decide to take a nap.

The steel base is incredibly durable, taking a weight capacity of up to 280 lbs.

---
10
The Relaxzen recliner and massager features a heating function and has a handy USB port where you can charge your electronics.
8 Massage motors and 4 target zones with 5 intensity levels and 9 modes.

Offers exceptional Lumbar heating, to relieve pain and tension.

A USB port where you can charge your phone, laptop, tablet, and other accessories.

Easy to operate remote and recline function.

---
11
The Tangkula is an all in one comfort chair with heating, Massage, and Powerlifting functions.
Eight massage points that massage your legs, neck back and waist area.

Electric mpotor and lumbar support with a memory function that is adjustable.

Durable and high qulaity with heating function.

---
12
The U-Max is an ergonomically designed recliner that offers soothing massage and heating functions in a supportive and comfortable reclining chair.
PU Leather upholstery that is durable and easy to clean.

reclines and swivels with a full ottoman for extra comfort.

Heating and massage function controlled with an easy to operate remote control.

Built inside storage pockets for your convenience, and two large cup holders.

---
Index Table: Top Rated Heated Recliners
---
Please Rate this Article:
---
---