A recliner is multi-functional and very comfortable, and can fast become your favorite seat in the house. Using a recliner cover on your most prized comfort possession is an excellent way to protect your recliner against spills, stains, damage and even wear and tear, and in the end, can save you money on re-upholstery or replacement.
Recliner covers come in many different material types, shapes sizes, and with all kinds of nifty features. The one feature that we will be discussing in the article is the very handy and versatile Pocket in the recliner cover.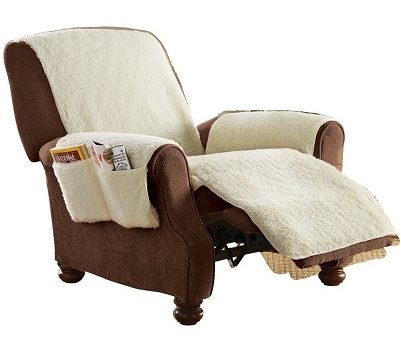 ---
Why do You Need a Recliner Cover in the First Place?
A recliner is a piece of furniture that goes through much use and is a long lasting investment in your home. With such an investment, you would like to keep it in tip top shape for as long as possible. On the other hand, you may get tired of the appearance and need a bit of change of scenery, or maybe just some warmth in the winter time.
There are plenty of good reason why you should get a recliner cover;

Protection against stains and spills.

Some cover is waterproof to keep your recliner dry.

Protection against pet hair, scratches and damage.

Great when you have small children that can make a mess.

Can have a warming or cooling effect depending on the material.

Change of style and color, some covers are even reversible.

Protection against fading, damage, and wear and tear.

---
Benefits of a Recliner Cover with Pockets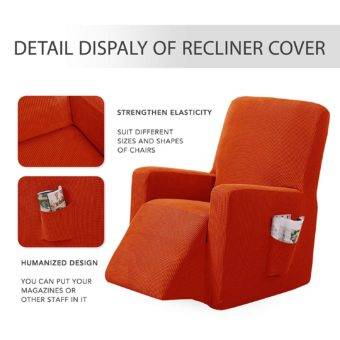 Pockets are an excellent feature to have on your recliner cover for easy convenient access to certain necessary items.
Store remote controls and Television guides that you need for use of your television.

Store magazines, books and newspapers for recreation and reading.

Easy storage for your cell phone and tablet or other devices.

Store important items that you need frequently.

Keep certain accessories and items hidden and out of harm's way.

---
Some features of a Recliner Cover with Pockets
A waterproof lining to protect your Recliner from spills.

Durable materials for stain and damage e protection.

A Non-Skid bottom or elastic straps to keep the cover firmly in place.

A comfortable and soft material to sit on such as fleece, cotton or suede.

Color variations for a change of décor and color in your home.

The right fit for your recliner.

Pet and child-friendly and protective.

---
Reviews: The Best Recliner Covers with Pockets
1
This is an excellent choice in recliner covers if you have pets and children, the cover is completely waterproof, anti-slip and protects your recliner against pet hair and scratches.
Completely waterproof with a TPU membrane to keep all liquids out.

The rubberized silicone, the non-skid bottom, will prevent from moving around, even with energetic dogs on it.

Tuck in seat anchors with detachable ties to keep it further anchored even more firmly.

Features 5 roomy side pockets where two are big, and three smaller to hold all kinds of accessories. cover

---
2
This is the perfect recliner cover for fabric upholstered furniture. The Argstar reversible slipcover gives you the option of two sides with different colors to choose from.
Made from soft and durable micro-fabric with high loft polyester batting that is water resistant and highly comfortable.

Different size and color options are available for you to choose from.

Reversible so you can change the color of your cover when you need to.

Very easy to install and have straps to keep it firmly on your recliner.

Handy side pockets to store items in.

Easy to machine wash and line dry.

---
3
The Subrtex is a Lazy Boy Type recliner cover that comes in options for a sofa, loveseat, recliner, and chair with a large variety of colors to choose from.
Features a humanized design for easy and comfortable use with a handy side pocket to store small items.

One size fits all with a stretchable design for easy installation and a firm fit.

It is made from high-quality elastic materials for the best and most comfortable fit.

Easily machine washable.

Offers great protection against spills and stains.

---
4
A plush and cozy warm fleece recliner cover from Collections etc, that convenient, warm and protects your Recliner from stains and damage.
Offers protection against stains and damage to your recliner.

Keeps you warm and cozy with the warm cover that feels like sheepskin.

A one piece with elastic straps for a secure and firm fit.

Machine washable and quick drying for your convenience.

The side pocket can hold magazines, remotes, books and tablets among many other things, and is a good size.

Different color options are available.

---
5
The Sofa Guard deluxe is an outstanding investment when it comes to quality and durability, with a 100% satisfaction guarantee. A protective cover with convenient large side pockets to store all kinds of items. Although this is said to be a sofa cover, it works just as well on any recliner.
Available in sizes for a loveseat, sofa and chair, while fitting a recliner just as perfectly.

Reversible sides for you to choose from.

Two large side pockets to store many items.

Safe for homes with pets and children, protects your favorite chair against spills, stains and scratches.

Available in a few different color variations.

---
6
So, you don't' want a cover for your entire recliner, or you already have the cover but need the functionality of a side pocket. Well, why not opt for this convenient armrest cover from Putting.
A non-slip design that will remain firmly fixed on your armrest.

Fits most recliner and sofa brands easily.

Durable and waterproof Pongee Material, with PP foam, a non-woven design, non-slip netting and a cotton finishing that is quilted and reversible.

Easily washable and highly durable.

Features a five pocket organizer for all your accessories, with an expandable band to hold magazines and newspapers.

Available in a few colors for you to choose from, all of which are reversible.

---
Lastly
A recliner cover is always a good idea, if you want to protect your recliner, or even just need a splash of color or a bit of warmth.
A recliner Cover with pockets ensures you the convenience to keep items such as a phone, remote control, newspaper and many more, close at hand.
---
Index Table: The Best Recliner Slip Covers with Pockets
---
---
Please Rate this Article:
---
---