Looking for an outdoor rocking chair for your patio or camping trips?
Find out all you need to know about buying the best possible outdoor rocking chair below, as well as reviews of a few of the best outdoor rocking chairs.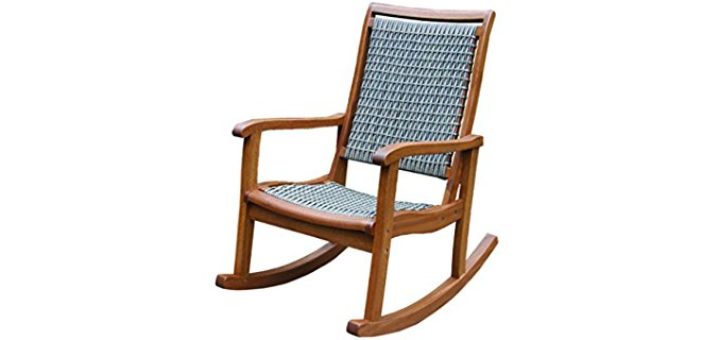 ---
Buyer's Guide for Outdoor Rocking Chair
Before you buy your outdoor rocking chair, the below-buying precautions should be taken into consideration:
Size – Check the size of the back rest as well as the height of the seat to the floor. The closer this matches your back, and leg lengths, the more comfortable the recliner will be for you.
Portability – If you intend to take the rocking with you, either for a camping trip or on holiday, get a portable one. Camping outdoor rocking chairs can usually fold up conveniently.
Space – Make sure you have more than enough space to rock on the chair, especially when opting for more than one.
Environment – The type of environment is important to consider. Do you live in a boiling or dry area? Then getting UV resistant chairs is best. Need the rocking chair beside the pool? Look for waterproof upholstery, and so on.
---
Materials for a Long Lasting Outdoor Rocking Chair
The best materials for outdoor rocking chairs are the ones that will last the longest.
Anti-Rust Frame – If you are getting an outdoor chair with a metal frame, make sure it has some form of rust protection. Stainless steel or a powdered metal alloy will work well to keep the frame in the best condition.
Varnished Hardwood – A base traditionally used and more durable than metal is any hardwood. Pine or oak are among the best of the hardwoods that you could choose from. Getting a varnished finish ensures the wood doesn't rot and leaves you with a rocking chair that could last a few generations to come.
Weather Resistant Upholstery – Weather resistant upholstery is important for any outdoor chair. Some of it is waterproof, some of it is fade resistant or UV resistant, and usually, they dry out very quickly at the very least.
---
Features of a Good Outdoor Rocking Chair
The best outdoor rocking chairs have many of the below features:
Lightweight – It's important for outdoor chairs to be lightweight, as an outdoor setup is most likely to be re-arranged. Lightweight rocking chairs also make them easier to store if you don't want to keep them out at night.
Back Pillow – A back pillow provides lumbar support, which is important when considering a chair. Look for some support in this region particularly if you do not have great posture.
UV Resistant Fabric – UV resistant fabric will last longer in the sun's rays, which usually starts to bleach and fade the fabric, eventually causing it to weaken and break. UV resistant fabric is stronger, more durable and fade resistant.
Traditional Shape – The more traditionally designed your rocking chair is, the more comfortable it will be. That means that the recliner should have a long back, high straight arms, and a nicely rounded rocking arch. Not only do traditional rocking chair designs feel the most comfortable, but they usually last the longest too.
---
Reviews: Best Outdoor Rocking Chairs
Have a look at our selection and reviews of the best outdoor rocking chair, each one is just a click away from your patio!
---
1
This camping rocking chair is perfect for all kinds of outdoor activities from lounging near the pool to having a picnic on a mountain side.

The full seat, thick steel arm-rests, and ergonomic slingback make this rocker very comfortable.

The base is sturdy and durable, made from anti-rust powdered steel to ensure that the chair survives in all elements.

When you want to be mobile, simply fold this chair, stack it with others and pop them in the boot of your car.

Comes with an adjustable lumbar or neck support pillow that comes inclusive with a velcro strap.

---
2
If you're looking for an easy on-the-go rocking chair, look no further!

This bungee rocking chair is lightweight, foldable and incredibly quick to set up in new outdoor environments.

The fabric is fade and UV resistant, tied to the frame by a replaceable bungee cord which means that it will last longer and is easy to repair.

A neck pillow rests on the top of the chair and may be flipped over to the back if you do not want the extra support.

The frame is made from anti-rust coated steel, ideal for the majority of outdoor conditions such as rain, humidity or dew.

---
3
This patio rocking chair is a perfect way to spruce up your porch, patio or poolside deck during the Summer.

Built from sturdy resin-hardened wicker, which is UV resistant, waterproof and suitable for most outdoor needs.

This rocking chair rocks very smoothly, having a fantastic wide arch and seat for optimal comfort.

The pillows have Velcro straps to hold them in place while you enjoy yourself outdoors.

While lightweight, the chair is not suitable for camping or transporting from place to place quickly.

Available in a few bright colors to match the seasons that perfectly complement the most outdoor decor.

---
4
Here is a super comfortable rocking chair, ideal for using in your garden, veranda or patio.

The old hardwood frame has been curved precisely to match the human physique, making it incredibly comfortable and body support.

The seating is upholstered with a thick, resin wicker, which will last through all kinds of extreme weathering.

The comfortable backrest in combination with an extensive arch makes for the perfect outdoor rocking chair.

A durable wood frame will last for decades.

comes in a set of two chairs.

Keep the chair in pristine condition by applying a linseed oil coating twice a year!

---
5
This modern rocking chair puts a new twist on vintage decor, bringing a classic tradition back to your patio!

Constructed from a solid hardwood frame, the recliner has been treated with weather resistance, allowing it to endure most weather conditions.

The high back and deep seat make the recliner feel comfortable to sit or rock back and forth in.

The rockers arches go slightly in at the back, which allows the user to rock in a wider arch than other usual rocker designs.

Designed after the classic Victorian rocking chair style, optimized for comfort and support.

---
6
The Orbital from Sunnydaze has a sleek and elegant design along with a Zero Gravity recline and rocking mechanism.
Lounger frame with rust proof powder coating that is strong and durable.

Comes with a comfortable pillow.

Padding on the bottom area and arms for comfort.

Available in a few color options to choose from.

Full recline and zero gravity design.

---
7
A stunning Wicker Rocking Chair that is perfect to use on your patio or outdoors.
Highly functional with 3 back positions and 5 footrest positions.

Full rocking function and durable Wicker rattan design with a sturdy metal frame.

The backrest has a zero wall recline design so it saves on space.

This reclining rocker can hold a weight capacity of 360 lbs.

---
8
The Vivere Sienna is a stylish and one of the best outdoor rocking chairs with a quick drying and breathable mesh design.
Ergonomically designed for full rest and relaxation.

Breathable and quick drying acrylic mesh seat..

There are rubberized wraps on the arms for a soft and scratch free finish.

Full recline and rocking capabilities.

---
Index Table: Top Rated Outdoor Rocking Chairs
---
Please Rate this Article:
---
---